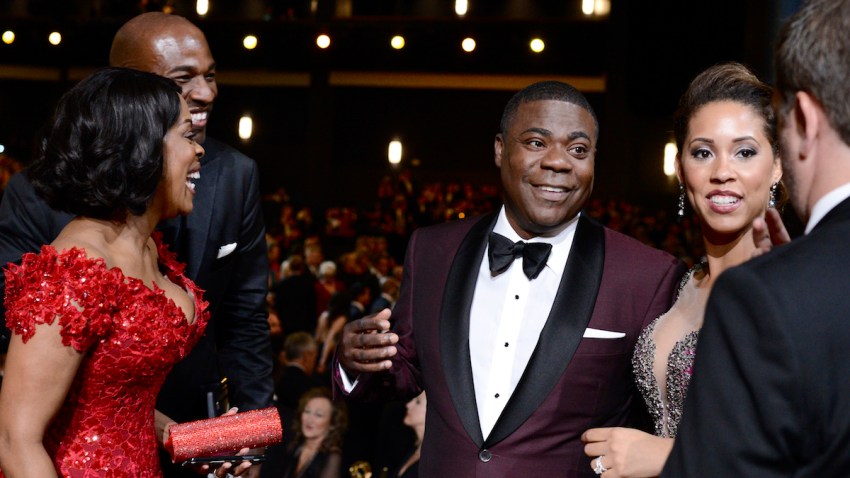 Jon Hamm finally won. Viola Davis and Uzo Aduba gave acceptance speeches that left us teary-eyed. And Andy Samberg made us laugh many times just by being his adorkable self.
But there was plenty going on behind the cameras at the 2015 Emmy Awards Sunday that you didn't see.
With that, here are five things you didn't see on TV during the Emmys...
1. Covert Operations: Tracy Morgan's appearance at the end of the show was so top secret that only about four people knew he was coming, according to source. But about 90 minutes into the show, whispers began backstage after he was spotted in a dressing room.
PHOTOS: Check out more exclusive Emmy pics in Marc Malkin's Instagram gallery
2. Bottle Service: It's no secret it was about a gazillion degrees on the red carpet. But too bad the audience wasn't allowed to hydrate during the show. James Corden and his wife Julia Carey actually snuck a bottle of water into the theater in her clutch after ushers told them beverages weren't allowed inside. But handheld fans apparently weren't forbidden. "Game of Thrones" actress Sophie Turner used one to cool off in her seat before the telecast began.
3. Snack Time: Hot couple Tatiana Maslaney and Tom Cullen enjoyed hot pretzels in the lobby as did "Orange Is the New Black's" Lorraine Toussaint. Carson Daly walked around with his Emmy for "The Voice" in one hand and plastic cup full of beer in the other.
4. No Entry: If Emmy-goers needed to use the restrooms during a commercial break, they had to quickly take care of business. Guests who didn't make it back into the theater until after the show began again were forced to wait in the back of the house until the next break to return to their seats. Even so, Taraji P. Henson literally ran to her seat just before Morgan walked on stage.
5. On the List: There are many perks of being the host of the Emmys. One biggie? You get to invite a lot of people to the show–Samberg was given 12 tickets for his hosting debut.
PHOTOS: 2015 Emmys: Party Pics