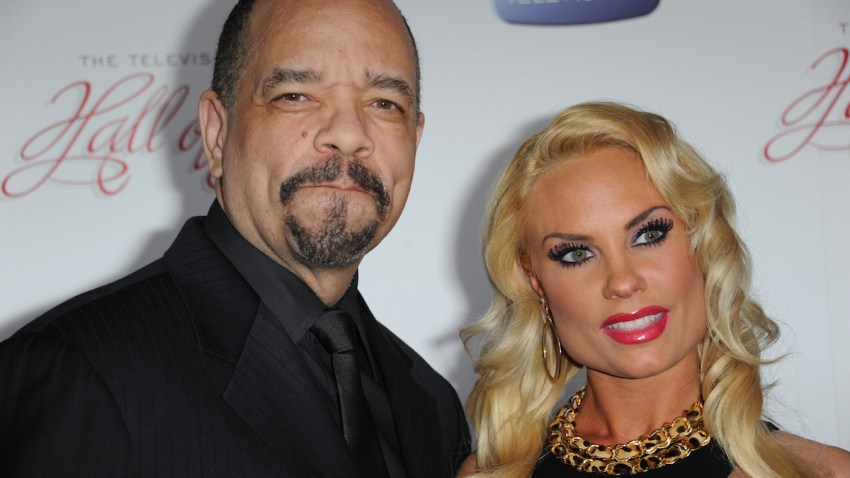 Actress/reality TV star Coco is pregnant and expecting her first child with husband Ice-T. The "Law &Order: SVU" star is already the proud dad to two kids from a previous relationship.
The couple confirmed the happy news Monday via Twitter. "The news is out. YES. We"re having a baby. The model and author then shared a photo of her tiny baby bump from the upcoming talk show's set, writing, "I'm pregnant!!! Yah!! Ice & I are so excited! I announced it Friday on our new talkshow which airs Aug 3rd."
The Hollywood couple will explore the talk-show world when they begin a three-week test run of "Ice and Coco" on select Fox stations in August.
"Three words to describe our show would be real, crazy and funky," Ice-T, 57, shared in a promo. "This show reflects our life. It will be hip, pop culture, fashion, everything."
While fans have witnessed the Hollywood pair spoil their dogs including Spartacus and Maximus, they've also witnessed the twosome discuss the possibility of expanding their family with kids.
"There's a lot of peer pressure for me," Coco, 36, once revealed to E! News. "It's not just my family that's giving it, it's the world...When the time's right, I will."
Ice-T added, "At the end of the day, it's Coco's call. She puts in the order and I can do the deed."
PHOTOS: Ice-T and Coco's cutest moments as a couple
[NATL] Top Entertainment Photos: Best of the American Music Awards, and More
After all, this is coming from an actor who admitted to seeing "Fifty Shades of Grey" with his leading lady. And that's why we love these two.
"I don't want to be like those 80-year-old women with no one around them," Coco shared with E! News a couple years back. "I want to have something I gave birth to early in life and be like, 'You can help me out now!'"
As Coco begins her pregnancy journey, the former E! reality star also has a major project to work on with her husband.
PHOTOS: Celebrity couples we love and admire
--Reporting by Holly Passalaqua
Copyright E! Online