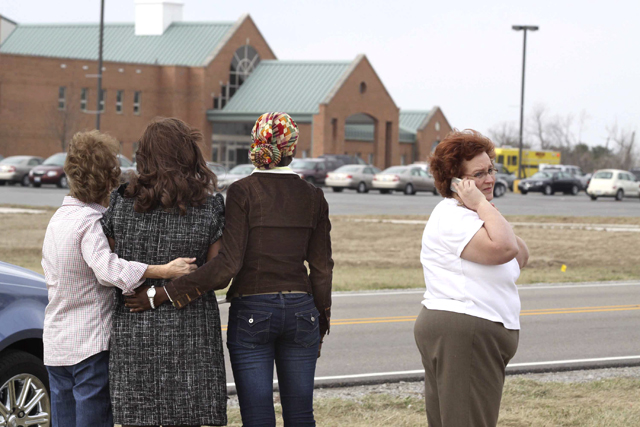 A pastor killed during a Sunday morning service at an Illinois church deflected the attacker's first four rounds with a Bible in a scene so terrifying that churchgoers were convinced they were watching a skit, according to reports.
Rev. Fred Winters was delivering a sermon in front of a congregation of 150 at the First Baptist Church when the gunman walked down the aisle, shared a brief verbal exchange with the pastor and then shot him in the chest with a .45 caliber semi-automatic pistol, the St. Louis Dispatch reported.
"We thought it was part of a drama skit ... when he was shot, what you saw was confetti," churchgoer Linda Cunningham told the Associated Press. "We just sat there waiting for what comes next, not realizing he had wounded the pastor."
The attacker's gun jammed before he could squeeze off another round so he pulled out a four-inch knife and began stabbing himself and slashed two men who tried to subdue him, cops told the AP. The condition of the gunman - who underwent surgery at an area hospital - was unknown.
It was unclear what the relationship was between the 27-year-old gunman and the pastor and members of the congregation said they did not recognize the man.