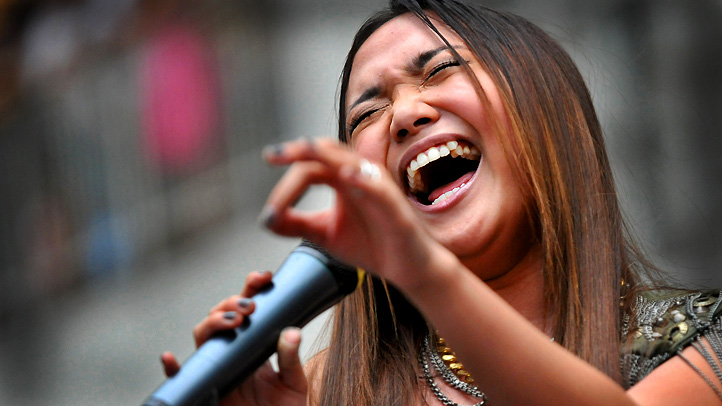 Teen singing sensation Charice jumped at the chance to bring a little Sunshine back to "Glee."
The pint-sized 18-year-old Filipino songbird – who burst into the music industry after a series of YouTube videos caught the eyes of Oprah Winfrey, Ellen Degeneres and music producer David Foster – once again got to step into the shoes of Rachel Berry's rival singer, Sunshine Corazon. When last we saw Sunshine, she'd defected to enemy show choir Vocal Adrenaline, but did she come bearing a bit more sunny-ness this time?
"My character is going to try help the glee club with this benefit concert, but Rachel is not going to like the idea," Charice tells PopcornBiz. "I'm very excited to see it and I feel really blessed to be a part of the show. When they gave me the song 'All By Myself' I was really happy, because I've been singing that song forever and I love Celine Dion!"
Charice says she was already a major fan of the show when the invitation to appear was first extended. "I'm a Gleek, and when I found out that I was going to be a part of it I got really excited," she says. "I was very nervous, especially when I was on the set for the first time. I was shaking! I was just like, 'Oh, my God, are they going to like me?' But when I met the cast they made me feel really comfortable. It's been really amazing to see them, to watch them, to get to know them. They're very playful, so it's fun that I've had the time to bond with them."
Now she's even no longer intimidated standing next to Sue Sylvester herself. "I feel like I'm a six-year-old kid by her because she's really tall, but I love Jane Lynch," she says. "It's a dream come true to be a part of it. I think that's one of their goals, to help other teenagers make their dreams come true and to make music."
"Glee" creator Ryan Murphy floated many a tease that Charice will be resurfacing throughout the remainder of the season as New Directions headed into their faceoff with Vocal Adrenaline at Nationals, but even she didn't know what to expect.
"Sunshine is looking forward to having another showdown with Rachel Berry, but I have no idea what's going to happen next after this!" she confesses. "I'm very excited to know if she's going to turn into a spy or if she's really going to help the glee club. It's been a very interesting story, so I can't wait."
She does have some specific ideas about what she's like to do if everything were up to her. "I'd love to sing my own songs," she says, pointing out that her brand new single would be perfect. "It's called 'Before It Explodes'. It's written by Bruno Mars and it's a heartbreaking song, a great and powerful song. If they gave me a chance, I'd like to sing that song." And she also has a dream duet partner in mind. "I'd love to have a duet with Mercedes [Amber Riley]. I think she's an amazing singer. I love the way that she sings, and I especially think the greatest song that she did is 'And I'm Telling You'."
Meanwhile, Charice also has her sights set on feature films, making her big-screen debut in the comedy "Here Comes the Boom" opposite Kevin James.
"My character's name is Malia and I'm a high school student," she says. "Kevin James plays my high school biology teacher who actually sidelines as a fighter in Mixed Martial Ats to help us save the music department. Of course, my character's a brainiac and a musical genius. She plays piano and sings and everything. Sunshine can relate to her."