Messages of support streamed in for the victims of Wednesday's deadly mass shooting at a social services facility in San Bernardino, California, in which 14 people died and 21 more were wounded.
As people posted their condolences on social media, the hashtag #PrayforSanBernardino took off, along with an image of a heart overlaid over clasped hands and another of a bear, California's state animal, huggling the outline of the state.
One user in Paris, a city still reeling from a terrorist attack on Nov. 13, offered his solidarity.
"I am Parisian and I #PrayForSanBernardino #JeSuisSanBernardino," user @otaupin wrote Thursday.
Several vigils are expected to be held Thursday night around San Bernardino, about 60 miles east of Los Angeles, including at the largest mosque in the city.
My heart breaks once again for unnecessary violence #PrayForSanBernardinohttps://t.co/tbBsqc4nO4pic.twitter.com/JxmMERq4UD

— Eva Longoria (@EvaLongoria) December 2, 2015
I am Parisian and I #PrayForSanBernardino#JeSuisSanBernardino#Paris#SanBernardinohttps://t.co/mUvlRaA0Jepic.twitter.com/Ud8BrHmCQ9

— ☕ Olivier Taupin (@otaupin) December 3, 2015
Our thoughts and prayers are with the shooting victims and their families in #SanBernardino, CA. #PrayForSanBernardino

— Nick Vujicic (@nickvujicic) December 3, 2015
Something has to change. #PrayForSanBernadinopic.twitter.com/bjBRadudy9

— Reese Witherspoon (@RWitherspoon) December 3, 2015
Officials and agencies from around the City of San Bernardino tweeted their appreciation for the outpouring of support.
"In the wake of this tragedy, as a unified command we thank everyone for the outpouring of support #SanBernardino @SanBernardinoPD," the San Bernardino County Sheriff's said in a tweet.

Some whose loved ones were at the scene turned to social media to express how they felt. The daughter of a woman who was at the facility tweeted her reaction to finding out her mother was at the regional center at the time.
"I cant get over the fact that I was so close to losing my mom today," user @dezraen said.
Her mother made it out safely.
Man Describes Ducking for Cover in San Bernardino Police Shootout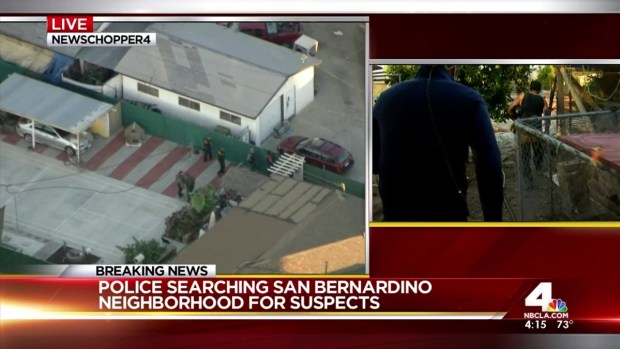 Several victims in the shooting started tweeting their reactions from the scene shortly after the shooting took place.
Families and friends of citizens working near the location started tweeting their concerns.
My aunts office building is a few blocks from where the shooting took placed, she's on lockdown. Please pray.

— Jadyn Fulk (@JayFulk) December 2, 2015
Many members on Twitter started tweeting and posting prayers on thoughts for the victims.
My thoughts and prayers go out to the victims and their families. I am confident that our first responders are... https://t.co/ckAofaKxja

— Marc Steinorth (@MarcSteinorth) December 2, 2015
#SanBernardino and #PrayforSanBernardino were trending on Facebook Wednesday.