Police are looking for a man they say snatched a 31-year-old woman off a Bronx path in broad daylight, covered her nose and mouth and dragged her into the woods, where he pinned her face-down and started to twist her neck last week.
The victim, Rebecca Young, recounted the 10 minutes of terror she experienced at the hands of the suspect inside Pelham Bay Park to News 4 on Friday. She was walking near City Island and Shore roads around 3:30 p.m. June 23 when the stranger, who was wearing white surgical gloves, grabbed her from behind.
"I'm like, screaming at the top of my lungs," Young said. "He had his hand over my mouth and he was trying to make sure I wasn't breathing."
She tried to fight him off, showing News 4 the cuts and scrapes she sustained in the attack. Young said the only way she could breathe was by biting her attacker and ripping through his rubber surgical glove to get air.
The two tussled in the brush as she screamed for help. At one point, she says she acted as if she had fainted. Then she heard someone ride by on a bicycle.
"I started screaming at that point, the cyclist is about to leave," Young said -- and described shoving her attacker away from her. Then she ran toward the cyclist.
The suspect ran off in the opposite direction. He didn't steal anything, Young said, despite the fact that she was wearing expensive headphones and had an iPhone 12 in her pocket.
"He never once checked my pockets. He never at one point was worried about my phone," Young recounted.
She believes the attack would have continued if not for that bicyclist who just happened to ride by at the right time. Young says she's traumatized by the experience -- she hasn't been outside except to go to the grocery store since -- but she wanted to speak with News 4 to help other women avoid a similar situation.
"Stay in well-lit areas. Stay with people as much as you can, because you never know how dangerous it is," Young said.
Police released a sketch of the suspect (below). Anyone with information on him is asked to call Crime Stoppers at 1-800-577-TIPS.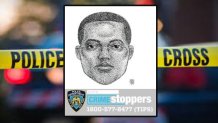 Copyright NBC New York