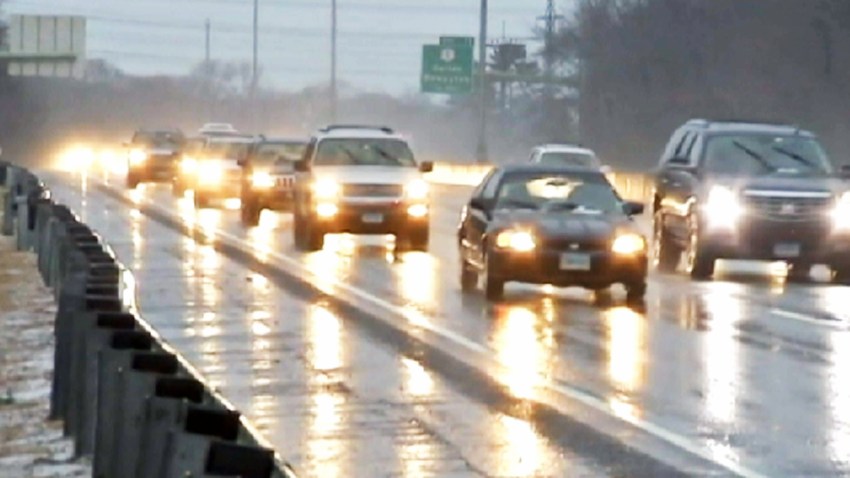 A powerful, swirling nor'easter churned through the tri-state, dumping about a foot of snow in parts of the region, causing headaches for travelers on the day before Thanksgiving, knocking out power to thousands and contributing to at least one traffic fatality.
A whopping foot of snow was reported in Pine Plains in New York's Dutchess County. Wantage, New Jersey got 10.3 inches, and Randolph got 6.5 inches.
Less than 1 inch of snow fell in New York City.
The weather made for poor road conditions and contributed to at least one traffic fatality in New Jersey. Police say a woman driving on Lincoln Highway in Woodbridge was killed when her car collided with another vehicle around noon. The other driver was taken to the hospital with trauma.
The wreck was one of the more than 200 reported in the Garden State on Wednesday. Gov. Chris Christie declared a state of emergency as conditions continued to worsen in the afternoon. Connecticut state police reported more than 125 accidents Wednesday, and Gov. Dannel Malloy told state employees who worked the second shift to stay home because of hazardous conditions.
In New York, Gov. Cuomo said 911 plows were clearing roads between New York City and Albany.
Governors in all three states urged motorists to avoid hitting the roads Wednesday, if possible.
Your Wintry Weather Photos
Thousands of Jersey Central Power & Light customers and Orange and Rockland utility customers were without power as a result of the storm. [Check JCP&L outages here; check Orange and Rockland outages here.]
In New York City, western Nassau County and some parts of northern New Jersey, snowfall and rain alternated throughout the day, with most places getting more rain than snow.
The Jersey Shore and in the central and eastern portions of Long Island also saw mostly rain as temperatures stayed well above the freezing mark.
The wintry storm left the area overnight, making way for clear skies when the annual Macy's Thanksgiving Day Parade steps off from West 77th Street. Wind was not expected to be a problem for the iconic giant balloons to float through the midtown route.
Highs Thursday are forecast to be in the low 40s before dropping into the 30s on Friday. The weekend is forecast to be partly sunny with highs in the 40s.
Your Photos: What We're Thankful For in 2014
AIRPORTS
• The region's three airports were experiencing mounting delays and cancellations. FlightAware reported hundreds of cancellations in the city's three airports.
• Delays at Newark airport were averaging more than three hours, according to the FAA. At LaGuardia and JFK, delays averaged about two hours.
ROADS
• Tandem tractor-trailers were banned on Interstate 87 between New York City and Albany on Wednesday.
• Tractor-trailers were barred from Interstate 84 in New York, and Gov. Cuomo.
• Cuomo activated the state's emergency operations protocols, and more than 900 snow plows were on the state's roads between New York City and Albany.
• New York City's Sanitation Department issued a Snow Alert for Wednesday. Officials said 408 salt spreaders are on the city's roads Wednesday but didn't expect to use plows.
• The New Jersey State Police said troopers responded to more than 200 crashes on Wednesday.
• See real-time traffic conditions here.
SCHOOLS
• Dozens of district across the region canceled classes Wednesday, while dozens of others are dismissing students early.
• See a full list of closures and cancellations here.
RAILS AND MASS TRANSIT
• New Jersey Transit cross-honored all tickets system-wide Wednesday.
• The Long Island Rail Road and Metro-North have added extra trains Wednesday for commuters and travelers trying to get out of New York City.
• New York City's subways were operating close to schedule.
[NATL-DO-NOT-USE] Extreme Weather 2014