What to Know
More than 200,000 people took to Manhattan's streets as part of the Women's March, the mayor's office said
The march comes amid the #MeToo movement that has lit a fire under the fight for women's rights
Some 400,000 people showed up to last year's rally, which was held the day after President Trump's inauguration
More than 200,000 women's rights supporters marched through Manhattan on Saturday, wearing pink hats and carrying signs of resistance, as leaders urged them on with a rallying call: "This is our time."
The large showing came amid the #MeToo movement and on the one-year anniversary of the inauguration of President Donald Trump. Marchers packed streets from Upper West Side to midtown on a sunny and pleasant day. Organizers said among goals of this year's march were getting more Democrats to run for public office and bolstering voter registration.
Atlantic City Freeholder Ashley Bennett, who won her office in November by beating a man who mocked last year's women's march, issued the call when she spoke at a kickoff rally.
"It is because you marched that I found the courage to make a change in my community," she said.
She cited a "pink wave and a reckoning," referring to the #MeToo movement which has galvanized women's rights activists. She said, "It's not about vengeance, it's just about time."
Bennett defeated Republican incumbent John Carman, who had mocked the 2017 women's march in Washington, D.C., with a Facebook post asking whether the women would be home in time to cook dinner.
Singer Halsey, whose given name is Ashley Nicolette Frangipane, gave a powerful speech in the form of a poem she wrote recounting abuse that she and other women have faced.
"This is the beginning, not the finale," she told the crowd, "and that's why we're here, that's why we rally."
Organizers said the crowd Saturday stretched more than 25 blocks from Columbus Circle to 86th Street. Andrea Hagelgans, a senior advisor to the mayor, tweeted that the official turnout was more than 120,000. Police estimated that more than 200,000 people marched.
Many held homemade signs, including one that read: "Public Cervix Announcement: No Uterus, No Opinion." Another read "My Outrage Won't Fit on This Sign."
The march in New York City was one of about 250 planned around the world this weekend. In New Jersey, thousands of people rallied in Morristown in support of women's rights.
Last year, more than 400,000 demonstrators flooded midtown for the Women's March. Another 400,000 to 500,000 people marched in Washington, D.C., along with hundreds of thousands more in at least 300 cities around the world.
Organizers said they were marching because basic rights for women, immigrants and others are under attack. Many of them wore pink cat-ear hats as a show of solidarity, while others carried signs stating opposition to Trump and his policies.
"I'd be lying if I said that I'm not dispirited and discouraged over having to march yet again to register our opposition to this disastrous first year of the Trump presidency," said Peggy Taylor, a New York City tour guide and Manhattan resident.
She said that last year, she felt "a kind of euphoria" walking through the city with hundreds of thousands of participants.
This year, "the hard reality of what lies ahead of us has sunk in," she said. "I know that we have a long slog ahead of us to undo the damage that this man has inflicted."
Marchers in New York City began at 61st Street and Central Park West -- near Trump International Hotel & Tower -- then went down to Columbus Circle before heading east to Sixth Avenue, which they took to Bryant Park.
Police organized elbow-to-elbow participants behind metal barriers that reached into offshoot streets along the park, guiding them in groups toward the march downtown. But the crowds were so thick that officers started turning people away at certain entry points, telling them to try farther north. Subway stations were packed.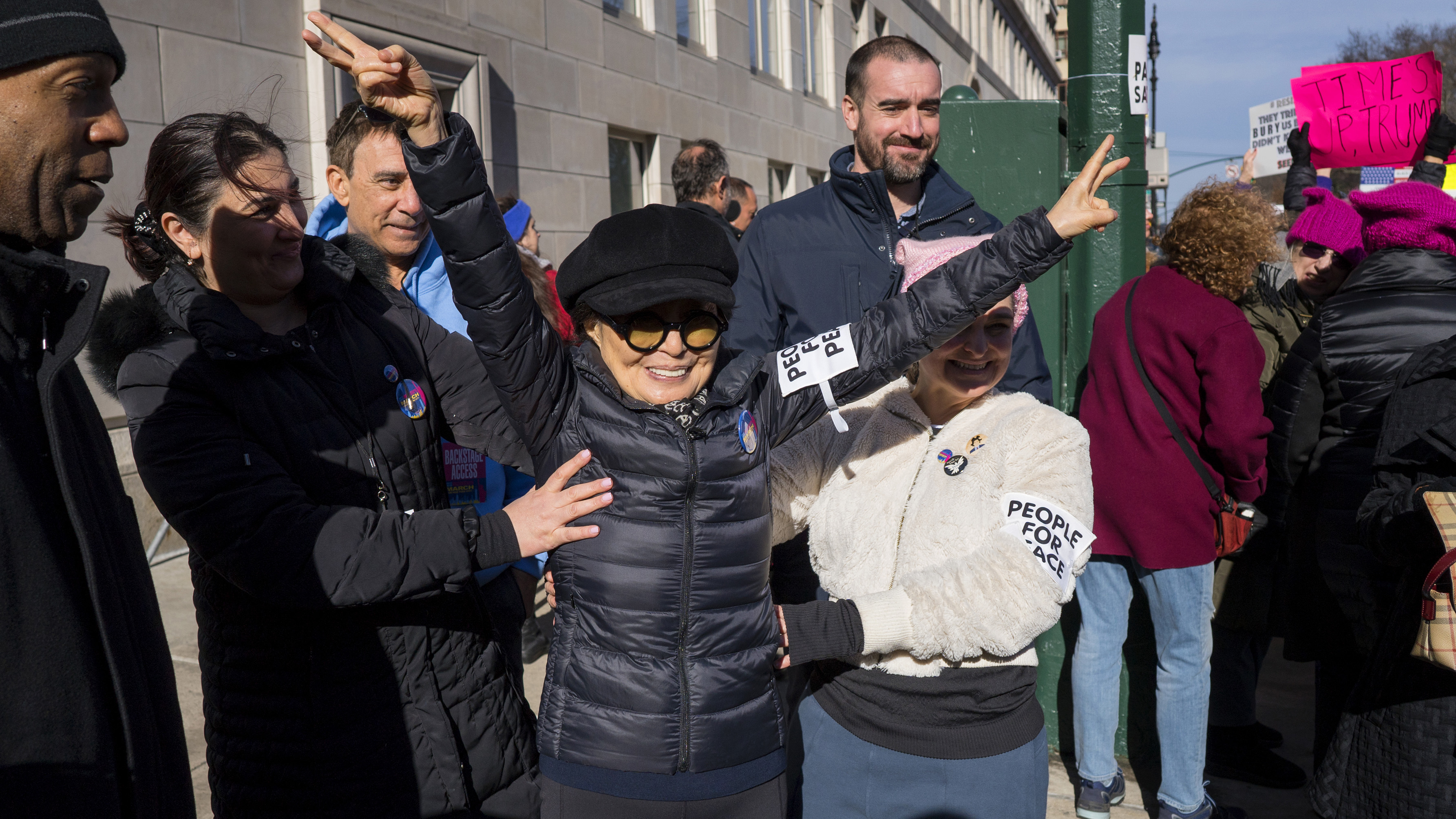 "Power at the polls," said a sign held by Cathy Muldoon, 52, a high school librarian from Dallas, Pennsylvania, who brought her two teenage daughters.
She said this year's action is set against the backdrop of Trump's presidency, which "turned out to be as scary as we thought it would be; I've not seen any checks and balances, everything is moving toward the right, and we have a president who seems to have no decency."
However, she said, the march "gives us a sense that we still have some power and that there is hope."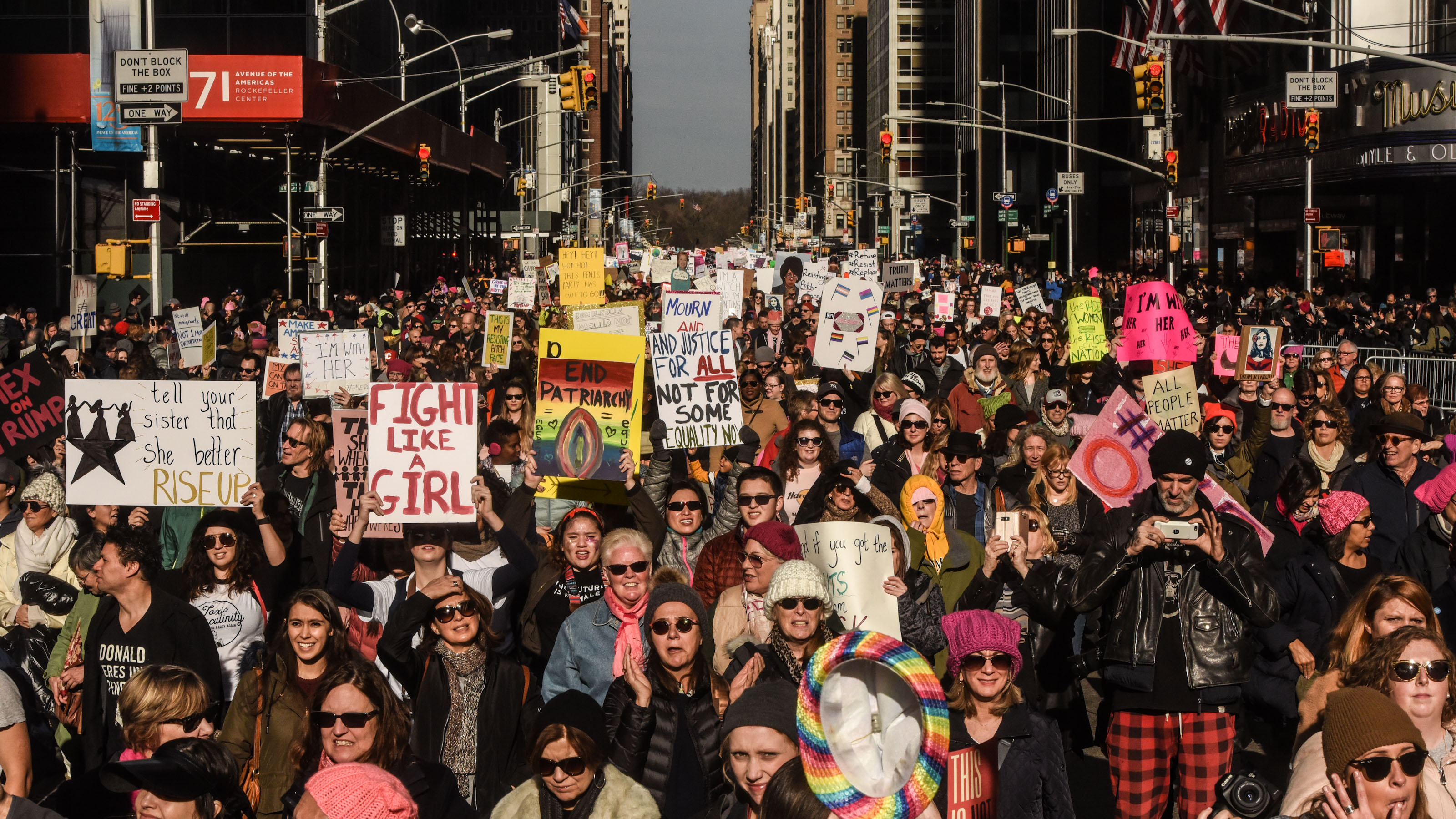 Thalia Friedman, an intrepid 9-year-old New York resident, held up a sign that read: "Donald Trump calls women ugly and does not deserve to be president." Then she spoke, adding, "and he's racist."
Earlier Saturday, New York Gov. Andrew Cuomo spoke at the Women's March Breakfast hosted by the New York City Bar Association.
"We have seen tremendous aggression and discrimination against women over this past year," Cuomo said. "We have a federal government that's looking to roll back women's rights all across the board - roll back a woman's right to choose, roll back contraceptive care, roll back insurance coverage for reproductive rights."
The Republican president "fundamentally disrespects women," said Cuomo, a Democrat. "And then you put him together with an extremely conservative Congress and you have seen a reversal of women's rights."
As the Manhattan march was underway Saturday, Trump took to Twitter, saying it was the "perfect day" for women to march in celebration.
The president ignored the overwhelmingly anti-Trump sentiment of the marches, writing: "Get out there now to celebrate the historic milestones and unprecedented economic success and wealth creation that has taken place over the last 12 months. Lowest female unemployment in 18 years!"
Copyright AP - Associated Press