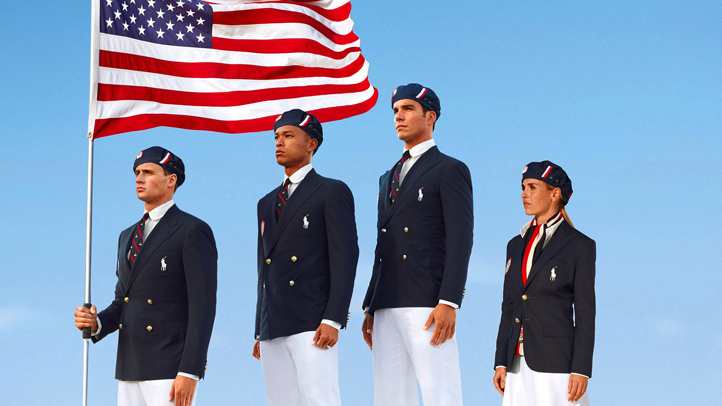 Chinese-made uniforms for Olympic athletes representing Team USA have drawn sharp criticism from lawmakers, but there's been little scrutiny of other official Olympic merchandise for sale to the general public.
An analysis by the I-Team shows more than 95 percent of the items for sale on the team's
website
originate in foreign countries.
Under the "description" section associated with dozens of sweatshirts, t-shirts, hats, and other Olympic collectibles, the word "imported" clearly denotes that the items were not made in the United States.
Senator Charles Schumer (D – New York) is the latest federal lawmaker to publicly chastise the Olympic Committee for striking a sponsorship deal that includes Ralph Lauren uniforms manufactured in China.
"To have uniforms that are made in China with French [style] berets, how American is that?," he said. "I agree with Senator Reid that we ought to take these uniforms, put them in a big pile and burn them."
Schumer and other Senators from New York, New Jersey and Ohio announced the drafting of a bill that would force the Olympic Committee to outfit American athletes with uniforms that are made stateside.
In a statement drafted to help explain why Chinese-made uniforms were chosen for the Olympic Opening Ceremony, Patrick Sandusky, a spokesman for the United States Olympic Committee, stressed tax dollars are not used to pay for US Olympic activities.
"The U.S. Olympic Team is 100 percent privately funded. We're grateful for the support of our many sponsors, including the iconic American company, Ralph Lauren. Each of them provides America's elite athletes with the goods, services and direct financial support that have allowed Team USA to be the most successful Olympic team in history and one that makes the entire country proud."
In a statement, the Ralph Lauren Corporation said they feel their brand "embodies the best of American quality and design" and that Lauren promises to lead the conversation within the fashion industry to address the issue of increasing manufacturing in the United States.
And that manufacturing should increase soon, at least for Ralph Lauren. NBC News reports the designer has agreed to manufacture future uniforms in the United States -- starting with the 2014 Winter Olympic games.