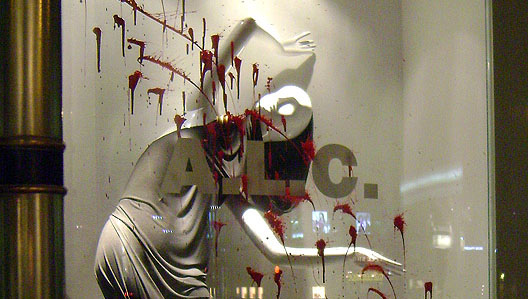 Call it window UN-dressing. And it's not the kind of wholesome display you'd imagine as the backdrop for Buzz Lightyear and Ronald McDonald as they float down the Thanksgiving Day parade route.
XOXO is trying a tried-and-true tactic to lure customers this holiday season. The store's 5th Avenue window display is a "peep show" featuring scantily clad models who change poses, do each other's nails and switch clothing at various points during the day in front of floor-to-ceiling windows, according to a published report.
The brains behind the operation is creative director Carol Powley, who designed the display for XOXO, reports The New York Post. It's not a peep show, she says. It's "window theater."

Sure …
"I told them just to hang out and not to engage with the public at all," Powley told the Post. "When I want them to change clothes, I send them a text message. It's very voyeuristic. You want to be looking at them, but you wonder if you should be."
Not surprisingly, pedestrian traffic comes to a halt when it's time for the girls to strip down. The display has caused so much uproar that a woman walking by the scene actually called the cops. They opted not to doing anything about the display. We don't blame them – and we wouldn't be surprised if they hung out for awhile after just to make sure everything was, ahem, OK.

Some may wonder who the salacious display is geared to attract, considering XOXO is a women's clothing company. But Powley said the goal is to lure in boyfriends who are looking to buy gifts for their special ladies. They may end up coming away with more than that …
"I was raised in Holland and used to live in the red-light district," Evert Degraeve told the Post. "This window doesn't look like a clothing advertisement to me. It looks like these girls are waiting for some customers to come along."

Want to check it out? Head up to Fifth Avenue and 38th Street. And hey, don't run – they'll be there through Dec. 6.