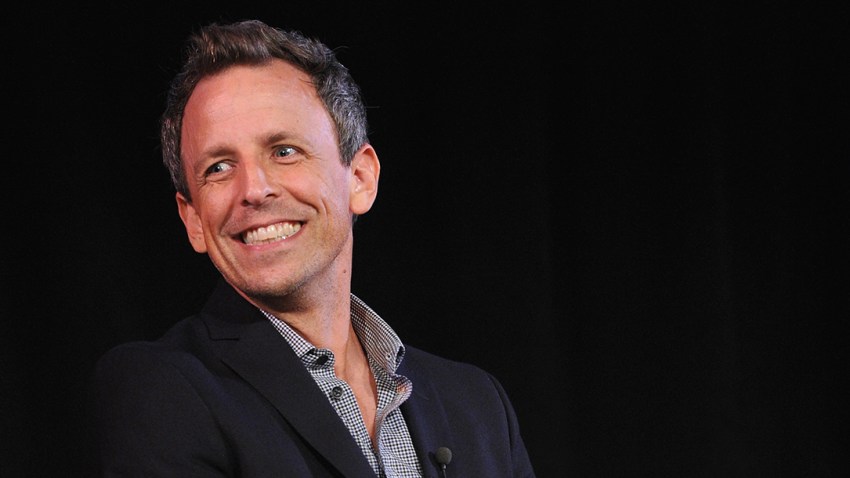 Seth Meyers has been awarded the Mayor's Office of Media and Entertainment Spotlight Award in recognition of his "significant contributions" to New York's media and entertainment industries.
The "Late Night with Seth Meyers" host and Emmy winner was presented the award Tuesday night at the Paley Center for Media.
New York City Media and Entertainment Commissioner Julie Menin said Meyers' career as writer and performer on both "Saturday Night Live" and "Late Night" is "a big reason that New York City has become the late night comedy capital."
"With a career that both inspires a new generation of writers and entertains all of us, I can't think of a more fitting recipient of a Spotlight Award," said Menin. "Seth keeps us laughing while holding our country's leaders' feet to the fire."
Meyers said he was honored.
"New York is a perfect place for me to film a show, not just because of the talented community of professionals who make it what it is, but also because I live here and if we filmed somewhere else my commute would be too long," he joked.
He was presented the award following a PaleyFest panel with "Late Night" writers Alex Baze, Sal Gentile, Jenny Hagel and Amber Ruffin. It was moderated by Colin Jost, Meyers' successor on Weekend Update on "SNL."

The Media and Entertainment Office created the Spotlight Award to illuminate excellence in the film, TV, publishing, digital content and advertising sectors in New York.
Earlier this year, Greg Young and Tom Meyers (no relation to Seth) were honored for their popular podcast "The Bowery Boys," which explores New York City's history.