Former NBA player Sebastian Telfair was arrested early Sunday in Brooklyn on gun possession-related charges, police told NBC 4 New York.
Telfair, 32, and his nephew, Jami Thomas, 18, were found with three loaded firearms, a semi-automatic rifle, ammunition and a bullet-resistant vest, police said. Two bags of marijuana and a burning marijuana cigarette were also allegedly found in the 2017 Ford F-150 pickup with Florida plates.
They were parked illegally on the median on Atlantic Avenue near Classon Street, police said.
As officers approached, they started to drive off, according to the source. Police who pulled them over smelled marijuana and saw a lit "blunt" on the dashboard, authorities said.
The pair were arraigned Sunday night. Telfair's attorney said the weapons are licensed in Florida. He said the pair had just left a club when they were pulled over and that police were targeting people leaving the club.
Telfair's wife and children live in Florida, but he is in New York because he is separated from his wife, his attorney said.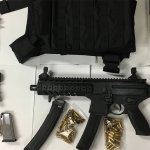 Telfair, a Brooklyn native, was a standout high school player at Abraham Lincoln High School and bypassed college to become a first-round draft pick in 2004. He played for the Portland Trail Blazers and many other teams before finishing his career in China in 2014.
He is a cousin of former Knicks star Stephon Marbury.
Telfair and a friend were arrested in 2007 on a gun charge after a traffic stop. He was stopped for speeding on the Bronx River Parkway, then found to be driving with a suspended license. Police found a .45 caliber handgun under the passenger seat. Both Telfair and his friend said they didn't know how the gun got there.
Telfair pleaded guilty in 2008 to criminal possession of a weapon and was sentenced to three years of probation. The NBA suspended him for three games.