Police are trying to track down an R train straphanger who is exposing himself to women, officials say.
The man is connected with different incidents dating back to Aug. 16, all of which happened onboard R trains in Manhattan, the NYPD says.
The first time, police say the man exposed his groin area to a 32-year-old woman sitting in a nearby sit on an uptown R train. The woman got off the train when it stopped at 28th Street and Broadway, but the man stayed on.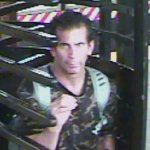 A few hours later on the same day, the man exposed himself again but this time onboard a downtown R train near the Murray Street and Broadway Station, officials said. He then struck again on Sept. 5 near the same station, cops said.
Investigators released surveillance footage of the man (above) seen wearing a camouflage shirt. They urge witnesses with information on the man to call Crime Stoppers at 1-800-577-TIPS.
Top Tri-State News Photos