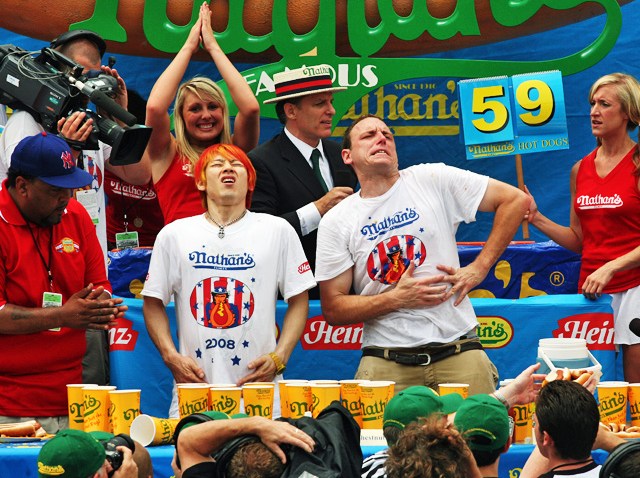 Sayonara, indigestion!

The yellow and red of Nathan's Famous Hot Dogs will be joined by a shade of pink this year as Pepto-Bismol has announced its sponsorship of the 95th annual Fourth of July International Hot Dog Eating Contest.

Pepto joins Heinz and Old Navy as sponsors of the stomach-bursting event, making it the first stomach-related remedy to be associated with the historic event. The event has captivated audiences of thousands on the corner of Surf and Stillwell Ave since Nathan opened his hot dog stand in 1916.

Contestants wolf down as many of the famous franks as possible in the span of 10 minutes. Last year's winner was San Jose, Calif., native Joey Chestnut, who narrowly beat out international eating phenom Takeru Koybayashi by swallowing 68 of the famous franks.

Pepto-Bismol's parent company, Procter & Gamble, hopes to tap the competitive eating market, which is sanctioned by Major League Eating and home viewers, which totaled 1.5 million households last year.

But that's not all! The stomach remedy will also be providing the crowd with Pepto-Bismol colored thunder sticks after Major League Eating banned vuvuzelas at league events.