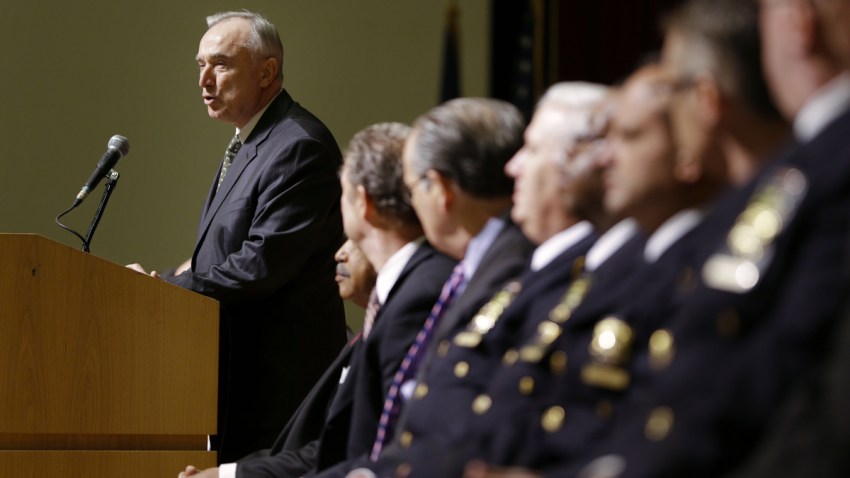 Police Commissioner Bill Bratton says he believes NYPD officers engaged in a work slowdown amid a widening rift between the department and City Hall in the wake of the Eric Garner grand jury decision and execution-style slayings of two cops as they sat in their squad car in Brooklyn last month, according to an interview with NPR.
In the interview, Bratton told NPR, "We're coming out of what was a pretty widespread stoppage of certain types of activity, the discretionary type of activity by and large."
But Bratton said the problem at the nation's police largest department is on the mend and the numbers are already going back up.
"I would describe it as a slowdown," Bratton said. "They never stopped working, 911 calls were responded to, arrests continued to be made, crime continued to go down."

Fewer tickets were issued for lesser crimes like public urination and drinking, Bratton acknowledged, but he said in the interview that major crimes in the city are down overall year over year.
The admission comes as plunging arrest numbers appeared to substantiate the rumored slowdown despite the insistence of police unions that there was no work stoppage.
Recently released data shows a plunge in the number of arrests for minor crimes citywide in recent weeks compared to the same time last year..
During the week ending January 4, 48 tickets were written for drinking in public. Last year, 1,061 tickets were written for the same violations. That marks a 95 percent drop.
Last year, there were 160 summonses for urinating in public that week; this year, there were nine, marking a 94-percent drop.
And the number of tickets written for failure to obey a sign plummeted 95 percent, from 136 during that week last year to 7 this year.
There had been chatter of a deliberate slowdown because of the startling change in police statistics but Bratton did not confirm it until Friday, after he had taken a comprehensive look. He said he didn't know the cause of the slowdown, but he has said he realizes morale among some officers is low.
Roy Richter, president of the police Captains Endowment Association, denied the drop in arrests was deliberate.
"Police officers never stopped their daily job of putting themselves in harm's way protecting New Yorkers," Richter said in a statement. "This past month we experienced an unparalleled drain on our resources policing protesters gone wild and horrible tragedy in the assassination of our two brothers in blue."
Bratton said he doesn't believe the slowdown affected safety and noted crime remains at historic lows. No officers were facing discipline.
"I don't think it's warranted," he said. "I'm very mindful of the extraordinarily stressful situations that the officers in the city found themselves in last month. And so we'll work to bring things back to normal."
One officer was suspended for insubordination during the period but it wasn't directly related to the slowdown.
Bratton said no police union gave any official instruction to slow police action. He met this week with the union leaders, and with borough chiefs to discuss the issue. "To encourage them to get out to the roll calls and start encouraging officers, now that we're out of the funerals and demonstrations, to get back to normal activity," he said.
The low enforcement activity prompted some to question Bratton's signature crime-fighting tool known as "broken windows," where low-level offenses were targeted to prevent more serious crime. But Bratton said Friday it had no major impact.
"The whole thesis of 'broken windows' is if over time you don't address an issue, over time it will create a larger issue," he said.
Copyright AP - Associated Press