One person was killed and three others were injured after an SUV hit a group of people as they argued on a Long Island street, police say.
The three women and one man were hit on Linden Avenue in Hempstead at 4:48 p.m. Wednesday.
One woman died from her injuries and the other two women and man were taken to a local hospital. At least one of the victims has been released.
The woman who died has not yet been identified.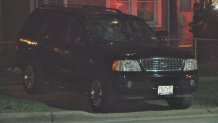 Police were at the scene of the crash Wednesday night. They were examining a green SUV with a crippled bicycle wedged underneath its front end. There was a black SUV with a shattered windshield nearby.
It's unclear how the bicycle was involved in the crash. It's also unknown if the drivers of the vehicles stayed at the scene.