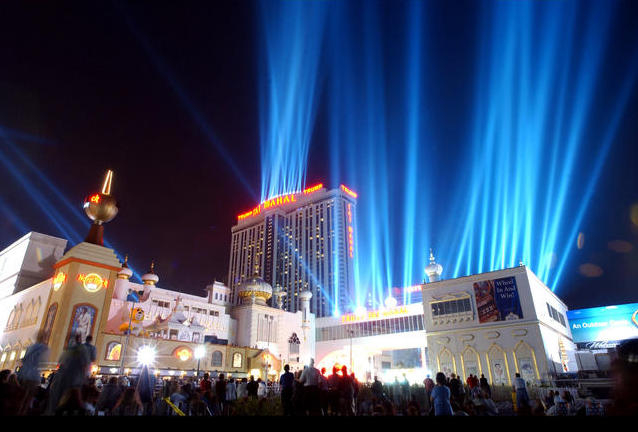 Uncertainty has always been a way of life for casinos who make their money on games of chance. But now, Atlantic City casinos are looking at their own futures with uncertainty.

Donald Trump quit as chairman of the casino company he once ran, and wants his name off the three casinos that have been synonymous with Atlantic City for decades, now that they're in bankruptcy for the third time.

The Tropicana Casino and Resort will file for bankruptcy next month, and Resorts Atlantic City -- the first casino in New Jersey -- could also become the first to be foreclosed on.

Since gambling was legalized here nearly 31 years ago, never has the country's second-largest casino market gone through this turbulent a time.

In addition to the economic slump, which leaves people with less money to gamble, Atlantic City's 11 casinos are being battered by fierce competition from slots parlors in Pennsylvania and New York.

Those gambling halls are attracting people who recently had no choice but to come here unless they wanted to get on a plane to Las Vegas, or drive to faraway casinos in other states.

"We've never seen it like this,'' said Linda Kassekert, chairwoman of the New Jersey Casino Control Commission. "This is a global recession, and the impact on discretionary income, you just see it immediately.''

Last year, gambling revenue at Atlantic City's casinos fell 7.6 percent. The year before that, it was down 5.7 percent.

About 2,700 fewer people are now working in Atlantic City casinos than were employed a year ago. That's a 7 percent decline, and additional layoffs are being threatened.

"None of us could have predicted two years ago the way the world is now,'' said Nicholas Ribis, co-owner of Resorts, which is among the worst-performing casinos in Atlantic City. "I'm not saying this town is going to be back where it was two years ago. I wish it was.

"It's tough to get people to come,'' he said.
Resorts became the first casino outside Las Vegas when it opened in May 1978. But it remains one of the smallest gambling halls in town, and has not kept pace with newer, hipper casinos like the Borgata Hotel Casino & Spa.

Resorts' parent company, an affiliate of Los Angeles-based Colony Capital, stopped making payments on a loan in November, saying they just couldn't afford it.

That prompted the lender, Column Financial, to ask the casino commission for permission to foreclose on Resorts. A decision could come in two weeks.

Ribis said taking out the $360 million mortgage was a mistake in hindsight.

"If I had a crystal ball two years ago, I would never have taken on that debt,'' he said. Never, ever. But looking back, we saw growth. That's why we put up that beautiful new tower, with a plan to do extensive renovations (on the older hotel tower) next door. We're not able to do that now.''

Resorts is not even able to say when it might be able to resume making loan payments. The casino's 2009 budget does not include them.

The Tropicana is expected to file for bankruptcy in late March, 14 months after its former owners were stripped of their casino license after laying off nearly 1,000 workers. That led to problems with cleanliness, service and compliance with state casino regulations.

Baltimore-based Cordish Company had been selected as a potential purchaser by the state-appointed conservator overseeing the Tropicana since then. But a deal has yet to be struck, and now a group including billionaire financier Carl Icahn may make a bid for the casino,according to his lawyer.

Still more uncertainty surrounds the three casinos owned by Trump Entertainment Resorts, which filed for bankruptcy on Tuesday, and were notified on Friday that their stock would be delisted from the NASDAQ exchange on Feb. 26. Its three casinos have now been through Chapter 11 three times as they seek some relief from debt that has suffocated the company as it tries to compete in Atlantic City.

Trump quit earlier this month after bond holders who hold an edge on the company's board of directors rebuffed his offer to buy the company and take it private.

It is far from assured that Trump will go quietly. As the holder of 28 percent of the company's stock -- even though he calls it "worthless to me now'' -- Trump will still be in a position to influence the outcome of bankruptcy proceedings.

Trump points out that the casinos represent "substantially less than 1 percent of my net worth,'' which is mainly based in real estate.

For now, his name will stay on the three casinos under a 10-year agreement with the company that gives it the right to use the Trump name. Trump says he may sue to break that agreement.

The casinos plan to operate normally during the bankruptcy proceeding, even as questions swirl over whether Trump Entertainment will be able to complete a planned sale of Trump Marina Hotel Casino to Coastal Marina LLC, a company run by a former protege of Donald Trump.

Despite all the gloom, Ribis says Resorts -- and Atlantic City -- will survive.

"If I didn't believe it, I'd just give them (lenders) the keys, or file bankruptcy and go home,'' he said. "A lot of analysts say Atlantic City is yesterday's news. I don't agree with them.''
Copyright AP - Associated Press