What to Know
Emergency officials responded to reports of a collapsed building in East Orange, New Jersey Saturday evening
A seemingly-abandoned building at the intersection of N Arlington Avenue and William Street partially collapsed around 5 p.m.
There were no reports of injuries, though initial reports suggested one person may have been trapped inside
A building believed to be vacant and under construction collapsed in a New Jersey town Saturday evening.
Emergency officials responded to reports of a collapsed building after 5 p.m. in East Orange, New Jersey. The four-story building partially collapsed through the center of its structure, officials said.
No injuries were reported, though initial reports suggested one person may have been trapped inside.
K9s were dispatched to the site at the intersection of N. Arlington Avenue and William Street late Saturday to search for any signs of people trapped in the building.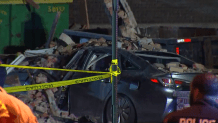 Building debris spilled onto William Street, forcing officials to cordon off the surrounding streets to block off traffic access. A number of vehicles were damaged by the falling debris.
"I was laying in my bed and I felt my bed vibrate. I went outside and I saw the building had collapsed," resident Mark Wilson said.
There were no obvious signs of damage to neighboring buildings, but two adjacent buildings were evacuated out of an abundance of caution, city officials confirmed.
NJ Transit provided bus warming stations to the evacuated neighbors, according to East Orange officials.
Neighbors told News 4 they had seen contractors walking in and out of the building recently and believed the building was vacant and under construction.
The cause of the collapse is under investigation.
Copyright NBC New York