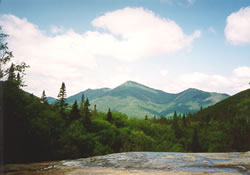 After a recession-chilled 2009 summer travel season that many in New York state's tourism industry would like to forget, 2010 is seeing a return of the summer vacation.

"I think people have a pent-up, inherent desire to travel and claim their vacations back," said Jan Marie Chesterton, president of the New York State Hospitality and Tourism Association.

With the school year ending this week across New York, indicators such as hotel and motel reservations and campground bookings are giving business owners and industry officials hopes of a rebound as the official start of summer kicks in.

"We're way ahead of where we were at this time last year," said Steve Puricelli, owner of the Lake Motel in Lake George, a popular tourist destination 50 miles north of Albany.

Despite a state budget stalemate that threatened to close many state-run parks, historic sites and campgrounds, those inexpensive, close-to-home attractions are drawing bigger crowds this year.

Reservations at the 51 campgrounds operated by the state Department of Environmental Conservation are up by 3 percent as of this week compared to the same time last year. The 67 campgrounds run by the state parks office have seen a slight dip in reservations, but the agency said overall attendance at its parks, campgrounds and golf courses is up by more than 10 percent through the third week of June when compared to 2009.

At the start of his second full summer in the motel business, Puricelli said his bookings for June are up 50 percent over the same month last year. He shares much of the optimism Chesterton said she's hearing from many of the tourism association's 1,300 members, including 1,000 lodging businesses that account for 70 percent of room inventory in New York state.

"There's some really healthy optimism out there. There's a sense things are turning around," she said.

Lingering concerns about the economic recovery are keeping many people closer to home when they do venture off on vacation, something that plays to the strengths of the New York destinations within a few hours' drive of major East Coast cities.

Such proximity is what enticed Doug Van Clief and Kristen Jensen from their homes in Danbury, Conn., to Saratoga Springs for a short getaway.

"This is three hours from home. This was perfect for us," said Van Clief, who runs a financial services company. With five children between them, Van Clief and Jensen expect to return to upstate New York with their kids later this summer, with visits to Niagara Falls or Cooperstown likely. Van Clief said the recent economic turmoil had forced him to curtail more extravagant travel plans.

"Instead of one big vacation, we like to break it up into three or four days," he said.

Puricelli bought his business in September 2008, when the Wall Street meltdown started and the nation's economy took a nosedive. The 2009 summer, his first full one as a motel owner, turned out better than Puricelli expected, but overnight stays overall were down as much as 15 percent for many in the local lodging business, he said.

"Last year was the year no one thought was possible in Lake George," Puricelli said. "They had probably never seen a year when it had that kind of decline."

A study conducted for Empire State Development, the state's economic development office, shows just how bad a year 2009 was for New York's tourism industry.

According to the report from Tourism Economics, a Philadelphia-based consulting firm, visitors to New York state spent nearly $45.8 billion in 2009, down from $53.1 billion the previous year, a 13.8 percent decline.

Every region of the state saw tourism spending dip in 2009, with New York City experiencing the largest decline, 15.4 percent. The city accounted for 63 percent of all tourism spending in the state last year, according to the report.

Tiffany Townsend, spokeswoman for NYC & Co., the city's tourism office, said the number of summertime visitors dropped from 12.25 million in 2008 to 11.9 million last year. She said city officials are forecasting a return to 2008's numbers, with 12 million-plus visitors expected this summer, based in part on hotel reservations and data from the federal government on the number of inbound foreign travelers.

Gary DeYoung, director of tourism for the 1000 Islands International Tourism Council, sees better days ahead for the region along the St. Lawrence River in northern New York. Thanks largely to a run of good weather in the spring, bordering crossings by Canadians are up nearly 10 percent in June, giving the local tourism trade a kick-start heading into the summer season, DeYoung said.

Still, many visitors remain cautious about how much they spend, he said.

"They're out and about, but they're not pulling out the credit card as quickly as they used to," DeYoung said.
Copyright AP - Associated Press