In the weeks since terrorists killed 130 people in Paris and wounded hundreds more, bullet holes were found at a mosque in Connecticut, threats were called in to two others in Florida and a man left a fake bomb outside a fourth in Virginia.
More than 30 of the country's governors announced that Syrian refugees were not welcome in their states, while Southwest Airlines tried to keep a Philadelphia pizza parlor owner and his friend off a flight after a fellow passenger heard them speaking Arabic.
And Republican presidential hopeful Donald Trump, who had already suggested a registry for Muslims, revived a debunked claim that thousands of people celebrated in New Jersey as the Twin Towers fell.
"They don't need to blame all the Muslims because the ISIS are Muslims," said Omar Alnajjar, 16, outside the Mocha Hookah shop on Atlantic Avenue in Brooklyn, New York. "We're Muslim but we're not like them."
"They just kill anybody," he said. "They're terrorists."
He and 14-year-old Ezzaldeen Alkushtary both came from Yemen eight years ago and both believed that if they lived elsewhere in the United States they would face discrimination. Alkushtary said that Muslims are replacing black Americans as targets.
Comments like Trump's are fueling Islamophobia across the country, said Abdul Mubarak-Rowe, the communications director of the New Jersey chapter of the Council on American-Islamic Relations. So are comments from New Jersey Gov. Chris Christie, who said that not even Syrian orphans younger than 5 should be admitted to the United States.
"Of course we are very disturbed by what we are hearing and what are seeing," Mubarak-Rowe said. "It's very unfortunate that these candidates seem to want to promote bigotry and racism in order to appeal to a very narrow base of their constituency."
A group of Muslim leaders in New Jersey came together after the Paris attacks to condemn them and to insist that Islam provided no rationale for such deadly acts.
"There is no cause or injustice done to anyone that can ever justify killing of innocent human beings," they said.
Muslims routinely speak out against terrorist attacks and yet are ignored, Mubarak-Rowe said.
"We denounce them continuously," he said. "It is not something that is found in Islam at all and we speak out vociferously against it."
Hate crimes against Muslims as tracked by the FBI are on the rise even as attacks against other groups fell. There were 154 attacks in 2014, up from 135 in 2013, according to the figures released earlier this month. Most reglious attacks continued to be anti-Jewish — 609 in 2014.
But the Southern Poverty Law Center argues that crimes against Muslims are likely to be much higher than the official numbers, up to 6,000 by the group's estimates.
Farhana Khera, the president and executive director of Muslim Advocates, an Oakland, California-based legal and education organization, noted that the year began with the killing of three Muslim students in Chapel Hill, North Carolina. Threats have continued, particularly in the last 10 days, Khera said.
"This has definitely been a very frightening time for American Muslims," she said.
"The reckless and irresponsible rhetoric from a number of public officials is creating this toxic climate where for some, it's sending the message that it's essentially open season to harass, attack and discriminate against American Muslims. So this is a very, very deeply disturbing time."
Her group is calling for further federal investigations of at least two of the attacks on mosques.
In Meriden, Connecticut, the Baitul Aman mosque was riddled with bullets over the weekend following the Paris killings. Gov. Dannel Malloy later visited and officials say they have a suspect.
"Love for all, hatred for none," Salaam Bhatti, a spokesman for the Ahmadiyya Muslim Community USA, said afterward. "That is what we will continue to do, and no terrorist can make us back down from that."
The same weekend, threatening phone messages were left at two mosques in the Tampa Bay area -- at the Islamic Society of St. Petersburg and the Islamic Society of Pinellas County. Hatem Jaber, a volunteer at the St. Petersburg mosque said that the caller threatened to firebomb the mosque. An FBI spokesman said that investigators knew who had made the call and found no plan to carry out the threats.
The most recent threat, the fake bomb in Fairfax County, Virginia, was found on Thursday at the Dar al-Hijrah mosque in Falls Church. A 27-year-old man has been charged.
At the A-Halal Meat Market and Grocery in Brooklyn, the owner, 55-year-old Saeed Ahmad, denounced the Paris attackers. Like others along Atlantic Avenue, he said they were not true Muslims. He is frightened, he said, but of terrorists, and even in his native Pakistan.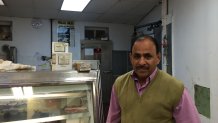 "I never send my children to Pakistan," he said.
Were they to visit, he would worry about kidnappers and attackers who do not know who they are killing in their assaults.
"They are killing children too," he said. "Sometimes I want to go to Pakistan and I'm scared. Honestly, I'm so safe here in America. How can I send my children over there?"
But another businessman who declined to give his name said he did fear a backlash against Muslims, especially with politicians like Trump stirring anger.
Heading into Ahmad's meat market, 46-year-old Mohamad Moazeb said Muslims needed to support the United States, where everyone has opportunity.
"Muslims love America," said Moazeb, who moved from Yemen in 1985. "Trust me. There's no doubt about it."
Moazeb had no comment about Trump, other to say that like Trump he was in real estate, but he knew whom he would favor for president should he run: former New York City Mayor Michael Bloomberg.
Meanwhile a woman in another Brooklyn neighborhood, Bedford Stuyvesant, reported that a postal worker spit on her and shouted anti-Muslim slurs after she bumped into him with her baby carriage. The postal worker was accused with aggravated harassment and other charges, according to the New York Police Department.
In Jersey City, New Jersey, where Trump claimed thousands of people cheered the 2001 attacks on the World Trade Center, Muslims are outraged.
"It is insulting, it is hurtful and it makes us not feel like a real American," said Egyptian-born teacher Nabil Youssef, who said he donated blood on Sept. 11.
Khera said her group appreciated that some people were standing up to anti-Muslim sentiment, the way that the quarterback of the Green Bay Packers, Aaron Rodgers, did when a fan shouted out an slur against Muslims during a moment of silence for the French victims before a Sunday game.
"I must admit, I was very disappointed with whoever the fan was that made a comment that was very inappropriate during the moment of silence," Rodgers said.
The pizza parlor owner, Maher Khalil and his friend, Anas Ayyad, called police when they were asked to step aside as their plane home to Philadelphia was boarding in Chicago. The men, who moved to Philadelphia from Palestine 15 years ago, were allowed onto the plane after a delay.
"If that person doesn't feel safe, let them take the bus," Khalil told a Southwest Airlines agent. "We're American citizens just like everybody else."
And getting lots of attention on Twitter is Tayyib M. Rashid, who tweeted: "Hey @realDonaldTrump, I'm an American Muslim and I already carry a special ID badge. Where's yours?"
Below, the now retired U.S. Marine from Chicago posted his Armed Forces of the United States identification card.