As New York City's deadline for its entire municipal workforce to be vaccinated against COVID-19 or be placed on unpaid leave approaches, more protests are expected a day after chaos erupted outside the Barclays Center over the mandates.
About 46,000 unvaccinated city employees have until Nov. 1 to get their first vaccine dose. Many of them marched from downtown Brooklyn on Monday across the Brooklyn Bridge to City Hall to object against the city's mandate. Walking with the American flag and signs that read "Essential workers are essential. The shot is not," marchers blocked vehicle traffic for a period of time in the morning.
"We've been working day and night for the city while the city was in lockdown," said Department of Sanitation employee James Sinagra. "We worked hard to the whole thing and now they're telling us if we don't get jabbed, we're out of a job."
Despite Mayor Bill de Blasio's offer to give city workers who get a shot by Friday at a city-run vaccination site an extra $500 in their paychecks, and evidence that the shots are safe and effective in preventing hospitalizations and deaths, anti-mandate protesters say it should be their decision whether they want to get the shot.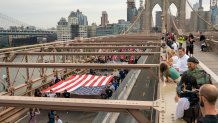 Curtis Orwell, who came out Sunday to support Nets guard Kyrie Irving and protest New York's vaccine mandate outside Barclays, said he and others were fighting for "bodily autonomy and sovereignty," and the right to choose what goes inside them.
"We also know so much more than we knew 18 months ago about the virus," he said. "We have therapeutics that have been tried and proven to great success. Unfortunately, those kinds of voices are being totally suppressed and censored."
Orwell said he was not vaccinated and knew some people who had lost jobs because they weren't.
"It doesn't feel right to them and that's OK," he said. "We need to respect that."
The number of new cases nationally has been plummeting since the delta surge peaked in mid-September. However, the virus is still striking unvaccinated communities, and one of the main reasons New York City has been able to reopen businesses is because of the vaccine. Over 85% of adults in New York City have gotten at least one dose, according to the city's data.
Not every protester who showed up Monday disagree with the mandate. There were counter-demonstrators who were there to encourage others to get inoculated.
The city previously mandated vaccines for teachers and the state has previously mandated vaccines for health care workers. Previously, most city workers could avoid being vaccinated by showing proof of a negative COVID-19 test each week.
With the expanded mandate, more than 300,000 city employees will need to be vaccinated, roughly 160,000 more than previously covered by vaccination rules. Jailers on Rikers Island, where the city has been grappling with staffing shortages, won't be subject to the mandate until Dec. 1.
Several unions castigated the mandates as unfair and vowed to sue.
Meanwhile, more pushbacks are expected as the Food and Drug Administration's panel of independent advisers is set to meet Tuesday to debate whether the shots are ready for the nation's roughly 28 million children ages 5 to 11. The Pfizer vaccine appears safe and nearly 91% effective at preventing symptomatic infections in children in that age group, according to study details released last week.
If the FDA authorizes the shots, the CDC will make additional recommendations on who should receive them the first week of November. Children could begin vaccinations early next month -- with the first youngsters in line fully protected by Christmas.
Full-strength Pfizer shots already are recommended for anyone 12 or older, but pediatricians and many parents are anxiously awaiting protection for younger children to stem infections from the extra-contagious delta variant and help keep kids in school.
Copyright NBC New York/Associated Press