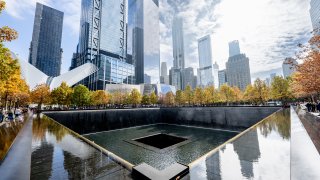 A man was arrested in New York City on Monday and accused of jumping into a reflecting pool at the 9/11 Memorial, police said.
The incident unfolded at about 1:30 p.m. ET, when police were called to the north pool at the 9/11 Memorial and found the 33-year-old man had jumped in, police said.
An emergency medical services team helped the man, who injured his left leg and back in the incident, into an ambulance, authorities said.
He was taken to Bellevue Hospital for the non-life-threatening injuries, and charges are pending, officials said.
Read the full story at NBCNews.com.