A man was out numbered five to one when he was shot inside a Manhattan park last week, police say.
The NYPD says on Thursday, a 25-year-old man was shot once in the torso after getting into some sort of argument with a group of guys inside Marcus Garvey Park in Harlem.
The group of suspects then ran away from the park heading eastbound on 120th Street, officials said.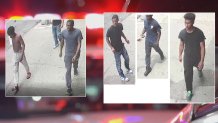 The victim was taken to an area hospital, where he is in critical condition.
Police Tuesday morning released surveillance footage of the suspects, who are described as being 16 to 18 years old, in the hopes of catching them.