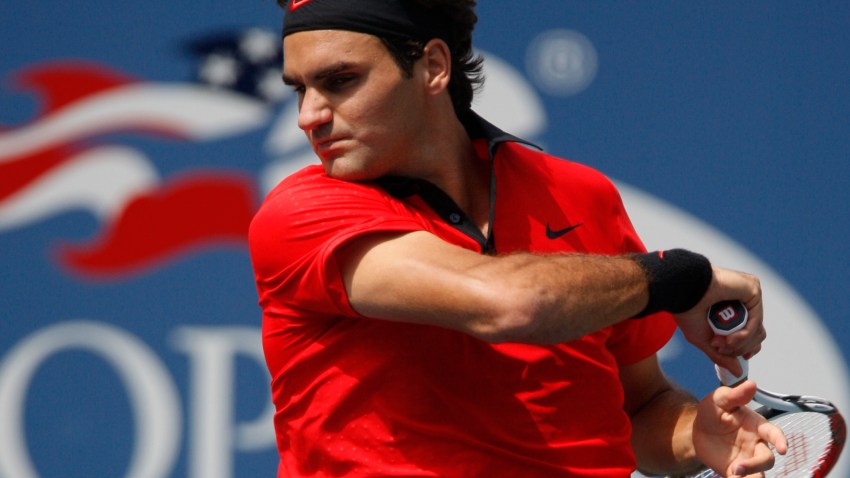 Tennis fans are being greeted by clear weather and world class match ups, as the U.S. Open gets underway today in Queens.
Swiss Superstar Roger Federer, 28, will be going for his sixth straight U.S. Open title; no man has won six consecutive singles titles since William Tilden dominated the courts from 1920-25.
Federer's first match was an easy win against 18-year-old American Devin Britton from Jackson, Miss. Britton is playing in his first U.S. Open.
On the women's side, Serena Williams begins the defense of her 2008 Open crown against fellow American Alexa Glatch, 19. She took a 6-4, 6-1 victory over Glatch.
Fan favorite Andy Roddick and Serena's sister Venus are on tap for their first matches later tonight.

Today's first round winners included eighth-seeded Victoria Azarenka, 12th-seeded Agnieszka Radwanska and 26th-seeded Francesca Schiavone.

Another American, Sam Querrey, will debut later this week, bringing with him some lofty expectations -- like he might be the next great tennis star America is looking for.

"Everyone is doing what they can," said Querrey, who is seeded 22nd. "A lot of times, even if you go back 100 years, you'll have a period of 10 years where you'll have four or five guys in the top 10, and then years where you might just have one guy. It's kind of like a rolling wave."
As much as anywhere else, the search for America's next great player resonates at Arthur Ashe Stadium, inside the USTA Billie Jean King National Tennis Center, home of America's Grand Slam.

It's the place where Jimmy Connors and John McEnroe, Chris Evert and Tracy Austin, ruled during a golden era that feels more like ancient history with each passing year.

Patrick McEnroe is in charge of putting together the program that will keep the pipeline filled, with hopes of producing multiple stars in the future.

"I think it's going in the right direction," Roddick said. "I think even with younger kids going back to 14, 15, 16 years old in Florida, from what I hear, it's a lot more organized."
That's the future.

The present belongs -- could belong, that is -- to guys like John Isner (ranked 55th), Donald Young (185) and Jesse Levine (135). No. 25 seed Mardy Fish is on this list, too, but the 27-year-old withdrew Sunday with a rib injury.

And Querrey.

He stands 6-foot-6 and ranks third on tour with 696 aces this year, a stat that is allowing him to become more aggressive in his return game, as well, because he's more confident about holding serve.

He is 21-6 since Wimbledon and has played in four finals, including a victory in Los Angeles. He won the U.S. Open Series, a grouping of hard-court tournaments leading to this week. That pushed his ranking from barely inside the top 50 to a career-best 22nd. It also earned him a chance for a $1 million bonus if he wins the Open.

His biggest win this summer was a 7-6 (11), 7-6 (3) victory over Roddick, one that may not signal Querrey is ready to rise all the way to the top, but certainly serves as a confidence builder.

"It also helps if you play Federer or Nadal," Querrey said. "Andy's beaten those guys. Hey, he did it, I beat him, why can't I beat those guys? So it kind of gives you that extra edge against them, too."
Copyright AP - Associated Press