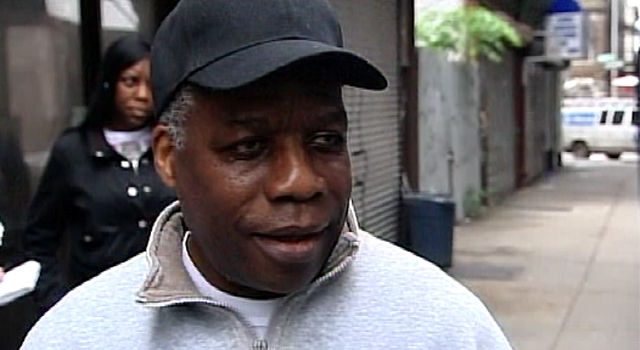 As word spread about the tragic case of mistaken identity that claimed the life of a rookie police officer, his friends and family spent Friday beginning the grieving process.
Omar J. Edwards, who was not in uniform when he was spotted with his gun drawn while chasing a suspect in Harlem, was shot dead by another officer who didn't know Edwards was on his side.
Edwards' loved ones are trying to make sense of a life cut short.
"He was a wonderful child from (when) he was small," said his father, Ricardo Edwards. "(When) he was a baby he was wonderful."
Omar Edwards had just finished his shift around 10:30 p.m. on Thursday when he headed to his car and saw that the driver's-side window had been smashed and a man was going through the vehicle.
Edwards struggled with the man, who got away from him by slipping out of his sweater. Edwards then chased the man up two streets with his gun drawn. That's when Officer Andrew Dunton and two colleagues from Manhattan's 25th Precinct came upon the pursuit. According to one of the other officers, Dunton shouted ""Police. Stop. Drop the gun. Drop the gun."

But Edwards didn't drop the gun, and Dunton ended up squeezing off six shots, three of them hitting his target. Edwards died a short time later at a nearby hospital.

Tragic as it was, a firearms expert said it's possible Edwards might not have followed the rule among police guidelines that reminds off-duty officers, when confronted by fellow officers, not to turn their bodies, especially if they're holding a gun.

"He just got off a shift," Pat Donnelly said. "He's a police officer. He's doing what he's been trained to do. Unfortunately, it appears that he didn't follow proper protocol in this situation, and unfortunately it cost him his life."
Friend Didn't Want to Believe Tragic News

Edwards' barber, Curtis Lucas, reacted with disbelief when he heard the news.
"I didn't want to believe it," Lucas said. "I just felt that this was a real good guy, that this shouldn't have happened to him. He was at the beginning of his career."
Before people begin pointing fingers, Mayor Bloomberg urged observers to be patient until all the facts are known.
"Rest assured, we will find out exactly what happened her, see what we can learn from it so it will never happen again," he said. "All the city's prayers are with Officer Edwards and his family."
But Noel Leader, a spokesman with 100 Blacks in Law Enforcement, said it's too late to ignore what he thinks is a disturbing trend.
"When a plainclothes officer gets shot by another officer, it's always the black officer shot by the white officer," he said.
The victim's uncle, Jerome Harding, will lean on his faith to get him through.
"You just have to let God do what he has to do," he said. "We've just been praying. The pastor of the church that I talked to ... he spoke to his wife, he spoke to his mother and he gave his condolences. We're trying to contact the rest of his friends and his family and we'll take it from there."
Added Lucas: "I believe his career -- his life -- was snuffed out by mistake ... My heart goes out to his family."
Copyright AP - Associated Press