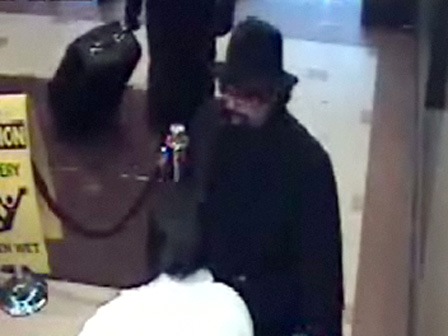 Police arrested two Manhattan jewelry store owners yesterday for 2008 armed robbery they allegedly self-orchestrated.
Police charged Atul Shah, 48, and Mahaveer Kankariya, 43, both from New Jersey, with grand larceny, insurance fraud, and falsifying records for faking the New Year's Eve 2009 heist.
The two thieves who took part in the robbery were caught on surveillance tape during the stick up on December 31, 2008 -- wearing traditional Hasidic Jewish wear: black coats, hats, and a beards.
They headed up the elevators of 2 West 46th Street to the Dialite Imports on the fifth floor, where the robbers proceeded to draw guns on Shah and Kankariya.
Shah was asked to take out all the assorted jewelery in the store's safe, before the robbers tied him and Kankariya up and fled the scene.
Cops were called following the incident, but now they say the owners removed the jewelery before the incident actually occurred, where nothing was stolen.
One of the thieves is in custody, the other has not been caught, the New York Post reported.
Copyright AP - Associated Press