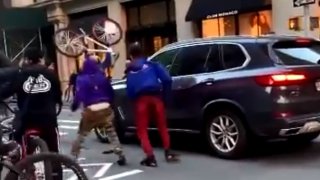 Charges have been dropped against a 15-year-old boy in connection with a window-smashing attack by a group of bicyclists on a BMW stopped at a Manhattan intersection earlier this week, an NYPD spokesperson told News 4.
A 17-year-old is now in custody and has made statements admitting he was in the widely watched video, which was captured at Fifth Avenue and East 21st Tuesday, one law enforcement source said.
According to the NYPD statement obtained by News 4 Friday, the 15-year-old boy "was not present and did not participate in the criminal act."
Law enforcement sources familiar with the case tell News 4 the NYPD learned of an alibi for the boy through press reports after he was taken into custody; he and his parents did not provide that information during their initial interview on advice of counsel, the sources said.
The alibi was later confirmed and charges were dropped. NYPD Chief of Detectives Rodney Harrison visited the family in Queens to apologize for the error and takes "ownership of the mistake," the sources said.
The investigation stems from an incident just after 4 p.m. Tuesday when the driver of a BMW SUV, a 36-year-old man, stopped at the intersections of Fifth Avenue and East 21st Street and allowed the large group of teens to pass.
The group then jumped on the hood and windshield of the vehicle, and punched the side mirrors, police said. Cellphone video of the incident showed one teen punching the rear driver-side window repeatedly, while another was seen picking up a bicycle and throwing it at the car's hood. A third person could be seen jumping onto the hood momentarily.
The father of the 15-year-old initially arrested told NBC New York that police made a mistake and that a picture of a suspect put out by the NYPD was not his son.
He claimed his son was in an entirely different borough at the time of the attacks, saying that he was at the Queens Center Mall buying his mother a birthday gift around 4 p.m. He even provided receipts showing a timestamp for a store at 3:49 p.m. — but it doesn't show a name since he said his son paid cash.