A hot dog-shaped bus will be the site of free hot dogs in Brooklyn Bridge Park this summer.
That's where Austrian artist Erwin Wurm debuted his latest creation, a vintage Volkswagen Microbus turned into a "overstuffed" hot dog-shaped food truck.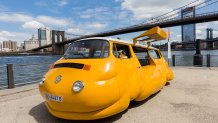 The bus will hand out free hot dogs every weekend from 12 p.m to 6 p.m, traveling around Pier 1 on Saturdays and Pier 5 on Sundays.
The sculpture is meant to be a tribute to the connection between the staple NYC street food and Wurm's homeland, but it's overstuffed shape is meant to pose an underlying questions about material over-consumption and the relationship between food and culture.
The bus is a re-imagining of Wurm's "Fat Car" series, and will be traveling through Brooklyn Bridge Park until August 26.