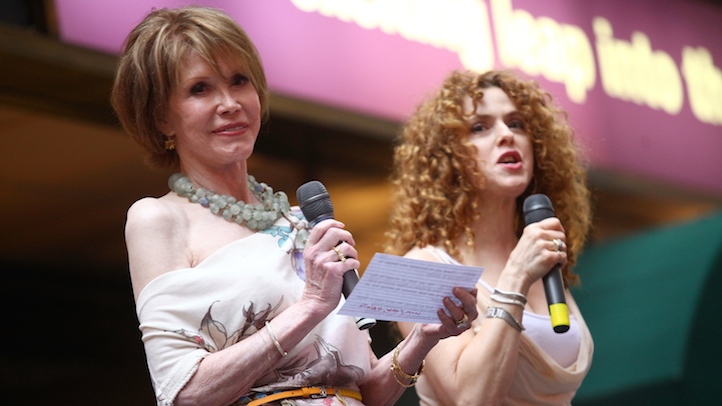 Over 80 Broadway stars will gather Saturday to find homes for New York City's shelter dogs and cats in the 17th annual pet adoption event "Broadway Barks."
The action takes place at Broadway's famed Shubert Alley (44th and 45th Streets, between Broadway and Eighth Avenue) beginning at 3pm, where New Yorkers can meet the adorable pets available for adoption. Celebrity participants will then "present" the animals from 5pm until 6:30pm.
Andrew Rannells ("Hedwig and the Angry Inch," TV's "Girls") and Bernadette Peters ("Gypsy") will co-host this years festivities.
Among the Broadway stars scheduled to appear? Bebe Neuwirth ("Chicago," TV's "Madam Secretary"), Michael Urie ("Shows for Days," TV's "Ugly Betty"), Christian Borle ("Something Rotten," TV's "Smash") and Rebecca Naomi Jones ("Hedwig and the Angry Inch").
Founded by Peters and Mary Tyler Moore in 1999, "Broadway Barks" has saved the lives of more than 250,000 dogs and cats, working closely with the Alliance Participating Organizations such as the Animal Care & Control of NYC. Broadway Cares/Equity Fights AIDS produces this years event.
Peters will also be on hand to sign copies of her newly published children's book, "Stella and Charlie: Friends Forever." All proceeds from the sale of the book -- and signed "Broadway Barks" posters and Playbills -- will benefit "Barks."
The full list of celebrity participants is as follows:
Brooks Ashmanskas ("Something Rotten!")
Clyde Alves ("On the Town")
James Barbour ("The Phantom of the Opera')
Ian Barford ("The Curious Incident of the Dog in the Night-Time")
Bill Berloni ("Trainer to the Animal Stars")
Heidi Blickenstaff ("Something Rotten!")
Sierra Boggess ("It Shoulda Been You")
Christian Borle ("Something Rotten")
Caroline Bowman ("Wicked")
Marylouise Burke ("Fish in the Dark")
Mary Callanan ("Mamma Mia!")
Scott J. Campbell ("Beautiful: The Carole King Musical")
John Cariani ("Something Rotten!")
Carolee Carmello ("Finding Neverland")
Michael Cerveris ("Fun Home")
Leanne Cope ("An American in Paris")
Corey Cott ("Gigi")
Veanne Cox ("An American in Paris")
Gavin Creel ("The Book of Mormon")
Nikki Renée Daniels ("The Book of Mormon")
Tracy Jai Edwards ("Ruthless! The Musical")
Alison Ewing ("Mamma Mia!')
Francesca Faridany ("The Curious Incident of the Dog in the Night-Time")
Tori Feinstein ("Matilda the Musical")
Jonathan Freeman ("Aladdin")
Montego Glover ("It Shoulda Been You")
Harriet Harris ('It Shoulda Been You")
Glenne Headly ("Fish in the Dark")
Edward Hibbert ("It Shoulda Been You")
Jackie Hoffman ("On the Town")
Dee Hoty ("Gigi")
Jayne Houdyshell ("Fish in the Dark")
James Monroe Iglehart ("Aladdin")
Rebecca Naomi Jones ("Hedwig and the Angry Inch")
Andy Karl ("On the Twentieth Century")
Chilina Kennedy ("Beautiful: The Carole King Musical")
Jeff Kready ("A Gentleman's Guide to Love and Murder")
Judy Kuhn ("Fun Home")
Marvin Laird ("Ruthless! The Musical")
Peter Land ("Ruthless! The Musical")
Kara Lindsay ("Wicked")
Sydney Lucas ("Fun Home")
Alison Luff ("Matilda The Musical")
Beth Malone ("Fun Home")
Kim Maresca ("Ruthless! The Musical")
Lesli Margherita ("Matilda The Musical")
Jefferson Mays ("A Gentleman's Guide to Love and Murder")
Andrea McCullough ("Ruthless! The Musical")
Howard McGillin ("Gigi")
Rita McKenzie ("Ruthless! The Musical")
Judy McLane ("Mamma Mia!")
Tori Murray ("Ruthless! The Musical")
Bebe Neuwirth ("Madam Secretary")
Michael Oberholtzer ("Hand to God")
Brad Oscar ("Something Rotten")
Jill Paice ("An American in Paris")
Joel Paley ("Ruthless! The Musical")
Mary Beth Peil ("The Visit")
Kate Reinders ("Something Rotten!")
Kate Shindle ("Wonderland")
Christopher Sieber ("Matilda The Musical")
Emily Skeggs ("Fun Home")
Jarrod Spector ("Beautiful: The Carole King Musical")
Sarah Stiles ("Hand to God")
Taylor Trensch ("The Curious Incident of the Dog in the Night-Time")
Michael Urie ("Shows for Days")
Max von Essen ("An American in Paris")
Julie White ("SYLVIA on Broadway")
Amra-Faye Wright ("Chicago")
Jessica Keenan Wynn ("Beautiful: The Carole King Musical")
Chip Zien ("It Shoulda Been You")