An electronic road sign on a New York City bridge was apparently hacked to display a vulgar message against President Trump.
The road sign at Pulaski Bridge, which spans Greenpoint, Brooklyn, and Long Island City, Queens, flipped sometime Wednesday night to read, "F--- Trump."
One man who works in the area, Khoi Le, told News 4 New York he spotted the sign as he was heading home to Astoria at around 4 a.m. He said the sign usually advises that the bridge is closed.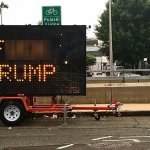 Another man who posted a daytime photo of the sign wrote, "Gotta love Greenpoint!"
By Thursday afternoon, the message was gone.
It's not clear who set up the sign, or how. Multiple requests for comment were left with the Department of Transportation.
Hacked electronic roadway signs are not entirely rare, but those who are caught could face jail time or fines in most places.
These Countries Have the Highest Threat Levels for Traveling, According to the U.S. Department of State