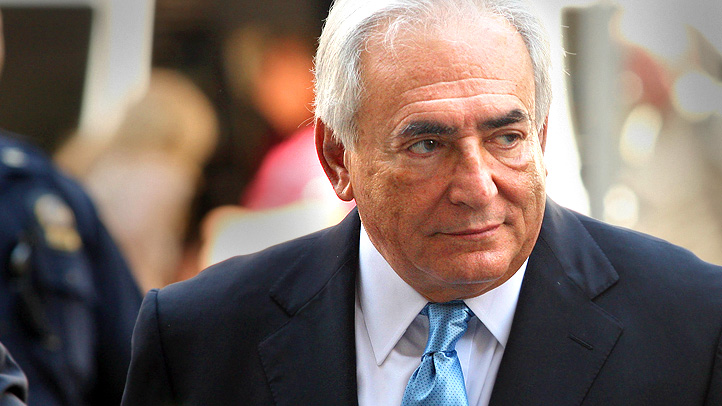 A timeline of the sexual assault case against Dominique Strauss-Kahn.
May 13: Strauss-Kahn, the head of the International Monetary Fund and a top contender for the French presidential race, checks into the Sofitel Hotel near Times Square.
May 14: Strauss-Kahn checks out in the afternoon and heads to John F. Kennedy Airport. A 32-year-old maid tells authorities that when she entered his $3,000-a-night suite in the early afternoon, Strauss-Kahn emerged from the bathroom naked, chased her down a hallway and pulled her into a bedroom, where he sexually assaulted her. The woman tells police she fought him off, but he dragged her into the bathroom, where he forced her to perform oral sex on him and tried to remove her underwear. He is pulled off of a Paris-bound Air France flight just before it leaves the gate, and later arrested.
May 15: Strauss-Kahn spends more than 24 hours inside a police precinct, where police say the maid identifies him in a lineup. He then goes to the hospital for a forensic examination, his lawyer says.
May 16: Strauss-Kahn appears in court, rumpled and unshaven, to be formally charged in the assault. He is sent to Rikers Island instead of being granted bail, as prosecutors argue he is a flight risk.
May 18: Strauss-Kahn is placed on suicide watch at Rikers, meaning he is checked every 15 to 30 minutes and is given a special prison jumpsuit and shoes with no laces. A source tells NBC New York that Rikers ordered the suicide watch as a precaution because of his mood the the delicate nature of the case. The French diplomat later resigns from his position as head of the International Monetary Fund.
May 19: The so-called "Manhattan madam" who arranged prostitutes for former Gov. Eliot Spitzer claims she also provided them for Strauss-Kahn in September 2006 when he was in town for the Clinton Global Initiative meeting. A judge also grants $1 million bail for Strauss-Kahn.
May 20: A judge approves the bail release order for Strauss-Kahn, and he leaves Rikers Island. The terms of the bail allow him to leave home confinement for one weekly religious observance, medical appointments, meetings with lawyers and court appearances. He spends the next several days at a Lower Manhattan apartment.
May 23: A DNA sample taken from Strauss-Kahn matches material found on the maid's shirt, sources familiar with the case tell NBC New York.
May 25: Strauss-Kahn moves to a luxury, $50,000-a-month Tribeca townhouse. The four-bedroom, four-and-1/2-bath townhouse sprawls more than 6,800 square feet and boasts a terrace, home theater, gym, fireplace, steam shower, heated limestone floors, a retractable skylight and a waterfall shower. The master suite encompasses the entire third floor and has a wet bar, walk-in closets and a limestone bath, among other amenities. Take a real estate tour of the house here.
June 6: Strauss-Kahn enters a formal not guilty plea to the charges. By the end of the case, "it will be clear that there was no element of forcible compulsion in this case whatsoever," Strauss-Kahn's attorney Benjamin Brafman said outside court. "Any suggestion to the contrary is simply not credible."
June 16: Documents filed by prosecutors show Strauss-Kahn tried to claim diplomatic immunity when first arrested at the airport.
June 30: A previously unscheduled court appearance is announced for the following day. Sources later tell NBC New York that the case against Strauss-Kahn is falling apart because of credibility issues with the hotel maid. She is discovered to have lied on an application for asylum and has ties to criminal suspects.
July 1: Strauss-Kahn is released on his own recognizance, free from house arrest, after the maid's credibility problems are raised. The prosecution says it is not dropping the charges.
July 6: Strauss-Kahn's attorneys meet with prosecutors to discuss the state of the case. They leave the meeting saying it was constructive, but don't comment further.
July 19: The attorney for the maid meets with prosecutors, but provides no details of the discussion. He reiterates his client's wish to see the charges pursued against Strauss-Kahn.
July 26: Strauss-Kahn's hearing set for Aug. 1 is postponed until Aug. 23.
July 27: The accuser, who has now come forward as Nafissatou Diallo, meets with prosecutors for eight hours.
July 28: Diallo speaks at a rally of supporters and says she has cried every day since her encounter with Strauss-Kahn. "What happened to me, I don't want that to happen to any other woman," she said.
Aug. 21: NBC New York learns that prosecutors plan to drop all charges against Strauss-Kahn.
Aug. 22: Prosecutors file a motion to dismiss the charges, stating that Diallo had told so many lies that her story could no longer be considered reliable.

Aug. 23: A judge dismisses all charges against Strauss-Kahn pending the outcome of an appellate court ruling on Diallo's attorney's request for a special prosecutor.