A 51-year-old man was arrested and charged Wednesday in connection to the deadly shooting of a deliveryman in Queens in April, which allegedly came as a result of a dispute over duck sauce.
On April 30, Zhiwen Yan, 45, was traveling through Queens late Saturday on his way to drop off a delivery when he was fatally shot in the chest around 9:30 p.m., police said.
Glenn Hirsch, of Queens, faces murder, stalking and weapons possession charges. He refused to speak with detectives, and said nothing as he was led out of the police station Thursday.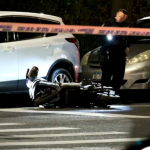 Hirsch was indicted by a Queens grand jury on Wednesday, and is expected to be arraigned Thursday evening. A police search warrant at the home of Hirsch's ex-wife turned up eight guns Wednesday night, despite the suspect not being licensed to own a gun in New York.
"A petty dispute over a take-out order became an obsessive point of contention for the defendant who began to stalk and harass employees at the restaurant for months," said Queens District Attorney Melinda Katz. "The tragic end result was the murder of a hard-working employee, who left behind a devastated family and a grieving community."
Initially, police sources said that they were investigating whether the person responsible for the shooting had past run-ins at at the Great Wall Chinese restaurant where Yan delivered from. They also said a police report had been filed previously for allegedly threatening to use a gun on staff there. These past interactions led them to Hirsch.
The owner of the Chinese takeout place where Yan worked said Hirsch was mad about being shorted duck sauce packets in November, becoming irate with the workers and demanding a refund, which the restaurant said could not be done due to COVID concerns at the time.
For the months that ensued, Hirsch allegedly slashed a worker's tires and threatened him and his employees with a gun. According to the DA, Hirsch told workers in Dec. 2021 "I have a gun" and added "be careful, this is the last time I'm going to tell you." He also returned in Jan. 2022, pointing a black firearm at a worker clearing snow outside the restaurant, the DA said, threatening to kill his family.
"He wanted to kill my employees, he wanted to kill my family. I can't believe it," Kai Yang said, who worked with Yan since 2012. "We're like a family, I can't believe we lost him."
One time before the shooting, Yan and other employees wrestled Hirsch to the ground when he brought a gun to the restaurant. But the dispute came to a head in April.
On the day of the killing, Hirsch was was seen on surveillance video driving by the Great Wall restaurant after dropping his wife off at work, according to the charges, and passed by the restaurant seven times between 7:30 p.m. and 9:30 p.m., which is around when Yan left the restaurant on his scooter to make a delivery.
The DA said that Yan dropped off the food order, and was stopped at a red light when Hirsch approached him on foot, after he followed him to the delivery address. Yan recognized him, and started to back away on the scooter, but Hirsch fired once at point blank range.
Yan was found unresponsive next to his scooter in Forest Hills at the intersection of 108th Street and 67th Drive. EMS units took him to Elmhurst Hospital where he was pronounced dead.
Hirsch was seen running back to his SUV and driving to his wife's apartment in Briarwood, according to the charges.
Yan's wife, Eva Zhao, had a simple response to learning her husband's alleged killer would face a judge: "Justice."
She told NBC New York in Mandarin that "We are all relieved that someone has been arrested," and added in English that "I miss my husband."
If convicted, Hirsch faces up to life in prison.