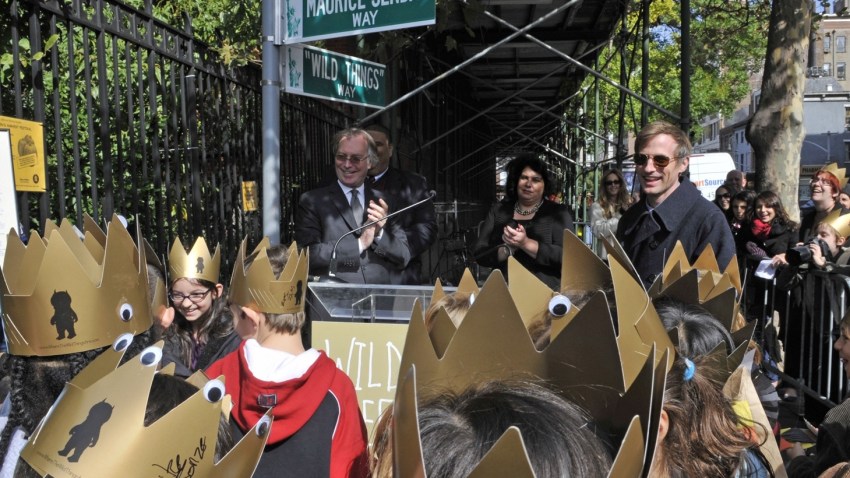 Nearly a half century ago, Brooklyn native Maurice Sendak created Where the Wild Things Are in a basement apartment in Greenwich Village. He was back in the neighborhood yesterday, along with Spike Jonze, the director of the much-anticipated film version of the book, and 50 local school kids who were proudly wearing Max's famous crown (or at least paper approximations of it).
The purpose of the ceremony, during which Jonze invited children to take the podium, was to proclaim the corner of Greenwich Avenue and Christopher Street "Maurice Sendak Way" and "Wild Things Way" (at least temporarily).
"Where the Wild Things Are is one of the most beloved and best-selling children's books of all time" said Santiago Teveras from the New York City Department of Education.
So beloved it seems, that it earned a spot on the Dept. of Ed's curriculum. A course focused solely on comparing the book and the film is now available to all (Yes, even you. Don't be embarrassed. Download it here.)

October 14th was also decreed to be Where the Wild Things Are Day, which will mean, hopefully that even when Urban Outfitters and Uggs are not official sponsors (which they happen to be now), we will still be allowed to dress like hairy monsters.
But in case it doesn't stick, enjoy it while you can: Sendak's original sketches and pages from the manuscript are on display at the Morgan Library and Museum this weekend and the first-ever retrospective of Spike Jonze's work is featured at the MOMA.
Don't be afraid to wear your paper crown.
Copyright FREEL - NBC Local Media