Six people are hurt after a van hit two pedestrians and a car, and fell into a pond in Queens Saturday, authorities said.
Fire officials received a call at 7:28 p.m. of a white van striking a 19-year-old, an 18-year-old and a car at Brookville Park in Rosedale. The van fell into a pond, officials said.
It is unclear if the pedestrians who were hit fell into the water as well.
Six people, including three from the car were injured. A young girl was inside the car. The 19-year-old victim is in critical condition with head trauma, police said. The 18-year-old victim has a foot injury.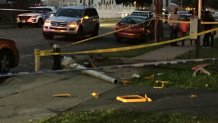 They were taken to Jamaica and Long Island Jewish hospitals, officials said.
Witnesses say the van passed a red light before flying into the pond.
The 53-year-old driver of the van was released after being in police custody, officials said. The van was pulled out of the water.
The investigation is ongoing.
Top Tri-State News Photos