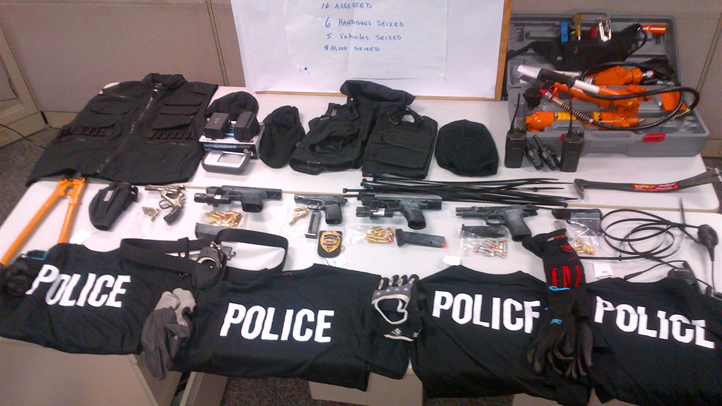 A Bronx robbery crew posing as police officers planned to rob a heroin distribution ring Wednesday but walked into a Drug Enforcement Administration sting operation instead, law enforcement officials said.
Using informants, DEA agents were able to infiltrate the gang which planned to carry out the drug deal rip-off in the woods of Riverdale near the Henry Hudson Parkway and arrest the 16 suspected gangsters. The crew, allegedly led by Javion "King Kong" Camacho, were armed with guns, fake police vests and shirts.
Prosecutors said Camacho boasted to the informant that the "wolves are hungry" and that he liked the sound of "the job." In addition to recordings, investigators said there were text messages about the plot.
DEA agents said the suspects were set to carry out the holdup using a caravan of six cars, guns, ski masks, police t-shirts and a police scanner. Camacho told police that he had served time for manslaughter and admitted he was caught "red-handed," the court papers said.
"As alleged, this was a marauding gang of armed and violent thieves in the Bronx who masqueraded as police officers in order to trick their narcotics-dealing targets so they could steal their drugs and their cash," said U.S. Attorney Preet Bharara.
Others arrested and charged include Gary Sanchez, Ramon Jiminez, Victor Morel and Joshua Roman. The suspects were expected to be arraigned in Manhattan federal court late Thursday.
Attorney information on the suspects was not immediately available.