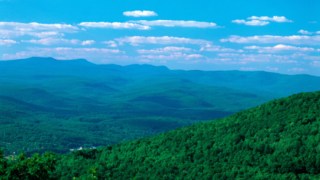 Authorities say a 23-year-old woman trying to take a picture by the edge of a cliff in the Catskill Mountains lost her footing and died after falling more than 150 feet.
The state Department of Environmental Conservation says the unidentified woman from Dutchess fell from a cliff on top of Kaaterskill Falls at about 7:15 p.m. Tuesday.
Forest rangers were able to recover her body Wednesday morning from the attraction about 40 miles south of Albany.
Tannersville Fire Department Assistant Chief Stephen Toumey told the Daily Freeman of Kingston that the woman was wearing flip flops on an unmarked section of the trail with a male companion.
Toumey said witnesses told rescuers the woman didn't appear to be paying attention while attempting to take a photograph.
Published at 3:42 PM EDT on Jul 30, 2014 | Updated at 2:12 PM EDT on Jul 31, 2014