At least seven people were transported to the hospital after a multi-vehicle crash sent two vehicles through an outdoor dining setup and food stand near Midtown.
FDNY officials say the crash happened near 2nd Avenue and East 50th Street around 8:30 a.m. on Friday.
An initial report of four people hospitalized was later upgraded to at least seven as the FDNY continued their investigation.
The crash was triggered when a van driving down 2nd Avenue struck a black Camry, sending it into the outdoor dining area connected to Crave Fishbar, a restaurant located on the corner. No one in the outdoor dining area was injured.
NYPD officials say the van continued on through a fruit stand in the area and hit three pedestrians.
Two children, ages five and seven, were injured by broken debris from the dining setup, according to police. In total, five adults and two kids were taken to the hospital with minor injuries; all are expected to recover.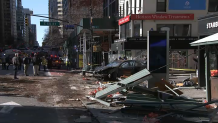 Investigators say the driver of the van may have suffered a medical episode; he did not test positive for substances and has since been taken to the hospital for evaluation. Police have not said how fast the driver was going, but did say he won't face charges.
Video recorded of the scene shows wood pieces scattered across the roadway from the impact of the crash.
Fire crews later secured the scaffolding located at the scene of the incident. Cleanup from the nasty crash lasted well into the afternoon.
The restaurant that had its outdoor dining setup smashed has dealt with damaging accidents in the past. In 2008, a crane fell and crushed what was then called Crave Ceviche Bar.
Copyright NBC New York