What to Know
A shooting on the Van Wyck Expressway in Queens killed a man and injured two other people, police say
The victims were in a vehicle when they were shot
Police don't yet know the motive for the shooting
A shooting on the Van Wyck Expressway early Sunday killed one man and injured two others, police said.
The victims were shot in their car on the Van Wyck at North Conduit Avenue in Queens, then drove to Canarsie where they stopped shortly after 5 a.m., the NYPD said.
A 51-year-old man, later identified as Sherwood Beverly, was shot in the head and died, according to police.
Two other victims, who are both 50, went to Brookdale Hospital, but were expected to survive, police said. A woman was shot in the shoulder and a man was grazed on the neck.
The circumstances of the shooting weren't immediately known.
Video from the scene showed a gray SUV with a shattered passenger-side window and what appeared to be a bullet hole in the windshield.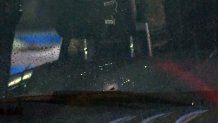 Top Tri-State News Photos