One person died and four others were hurt, one of them critically, in a Brooklyn car crash Saturday evening that senior law enforcement officials say started as an attempted traffic stop.
The wreck claimed the life of a 67-year-old grandmother and left her 8-year-old grandson fighting for survival, according to two senior NYPD officials.
Two of the other survivors in the 7 p.m. crash at Macon Street and Ralph Avenue in Bedford-Stuyvesant had serious injuries that were not considered to be life-threatening, fire officials said. The fifth victim wasn't badly hurt.
The deadly crash started as an attempted traffic stop related to mismatched plates on the suspect's vehicle, the two officials said. One person was in custody late Saturday, but a second was still wanted by police. Charges were pending.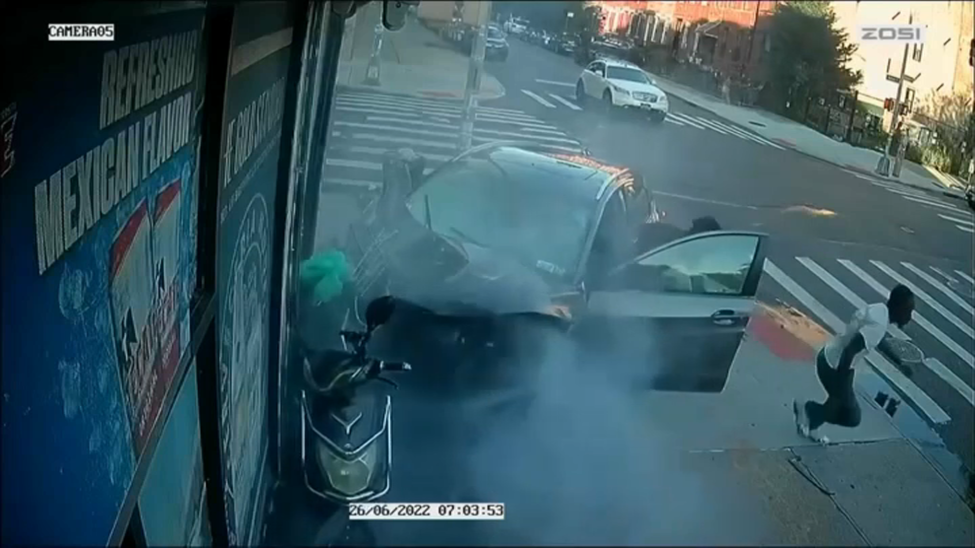 "As our police officers exited their vehicle and walked up to that vehicle on foot, that vehicle fled at an extremely high rate of speed," Assistant Chief Judith Harrison said.
Police said the driver swerved around a pair of cars at a red light and struck a 28-year-old bicyclist head-on, but didn't stop. The suspects continued, sideswiping a parked car before hitting the woman, Lynn Christopher, and her grandson walking near the crosswalk, police said.
The driver t-bone's another vehicle in the middle of the section, sending both crashing into a corner business and knocking down a 43-year-old man walking on the sidewalk. Police said the pedestrian and injured driver were taken to local hospitals.
Mayor Eric Adams visited the scene and briefed media alongside police as investigators worked late into the night.
"New Yorkers don't deserve this. We lost a grandmother tonight, we lost one of my neighbors," he said.
An investigator working the incident was overheard saying the involved vehicle had been reported stolen.
It remains unclear if police officers engaged the suspects in a pursuit through the Brooklyn neighborhood before the crash. The investigation is ongoing.
Copyright NBC New York