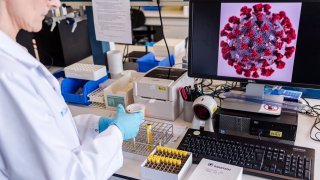 In the absence of vaccines or antiviral drugs, researchers at Johns Hopkins University in Baltimore say the key to slowing and treating the coronavirus might be hidden in the blood of those who've already recovered from the disease.
The method of using "convalescent serum" — essentially harvesting virus-fighting antibodies from the blood of previously infected patients — dates back more than a century, but has not been used widely in the United States in decades, NBC News reports.
During the Spanish flu epidemic of 1918, scientists reported that transfusions of blood products obtained from survivors led to a 50 percent drop in deaths among severely ill patients. A similar strategy was used to treat and slow the spread of polio and measles outbreaks decades ago, but the technique fell out of favor in the 1950s with the innovation of modern vaccine science and antiviral drugs, said Dr. Arturo Casadevall, chair of the molecular microbiology and immunology department at the Johns Hopkins Bloomberg School of Public Health.
When Casadevall learned in December that a new coronavirus was spreading rapidly in China, he started telling colleagues that it might be time to revive the antiquated treatment.
Read the full story at NBCNews.com.