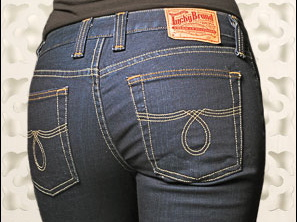 After a nasty five-year legal battle, a jury verdict ordered Liz Claiborne and Lucky Brand to pay $300,000 in punitive and compensatory damages to Marcel Fashion Group over the use of the slogan Get Lucky.
While one may argue that civilization has been "getting lucky" for centuries, it turns out that Marcel Fashion Group is the proper owner of the slogan, having trademarked it in the 1980s. Bad news for Liz Claiborne's Lucky Brand, who initially sued Marcel in 2003 for the unauthorized use of "their" catchphrase.
An initial settlement had attempted to settle the dispute over the use of Get Lucky, but Marcel alleged soon after that Liz Claiborne had violated that agreement - a breach that ended up costing Lucky's parent company $280,000. On top of that, they were ordered to compensate Marcel with $30,000, a number significantly less than the $30 million Lucky's lawyers claimed had been originally sought.
When it comes down to it, it seems that neither party got particularly lucky - but perhaps that could change if, perhaps, a new idea was hatched?