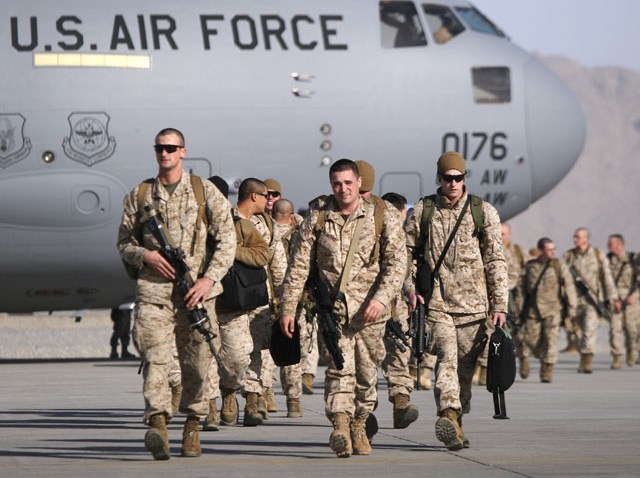 The top U.S. Marine officer said on Wednesday he could reduce his 25,000-strong force in the former al-Qaida stronghold of Iraq's Anbar province to reinforce military operations against a growing Taliban threat in Afghanistan.
Marine Corps Commandant Gen. James Conway, who visited Iraq this summer, told reporters the once-restive province west of Baghdad could be turned over to Iraqi security control within days, thanks to the sharp decline in violence that occurred when Sunni tribal leaders switched allegiance from al-Qaida to the U.S. military.
Any decision to reduce Marine forces in Iraq rests initially with Gen. David Petraeus, who commands all U.S. forces in Iraq and who is due to present troop-level recommendations to the Pentagon shortly. Also weighing in on this will be Defense Secretary Robert Gates as well as Adm. Mike Mullen, chairman of the Joint Chiefs of Staff, with the final decision to be made by President George W. Bush.
Conway said Marines serving in Anbar told him, "There aren't a whole heck of a lot of bad guys there left to fight." Driving through the once-dangerous cities of Fallujah and Ramadi, he said, "Our vehicles seemed to go largely unnoticed as there was much construction and rebuilding taking place."
"The requirement right now in Iraq is much more about nation-building than it is fighting," Conway said at a Pentagon briefing.
"It's our view that if there's a stiffer fight going on someplace else ... then that's where we need to be."
U.S. and NATO forces in Afghanistan face an intensifying insurgency marked by escalating attacks and military casualty rates that have helped make Afghanistan a deadlier place than Iraq for U.S. troops in recent months.
Conway said a ceremony marking a handover of security control in Anbar to the Iraqis could happen in the next few days; other officials, in Washington and in Iraq, said it is expected on Monday, but the Iraqi government has made no announcement.Ten of Iraq's 18 provinces have already been returned to Iraqi control. Bush said in January 2007 that the goal was to have all 18 in Iraqi control by the end of 2007; currently there is no announced goal, although completing the process is a crucial.
As recently as 2006, Anbar was the deadliest province in Iraq for American troops. Toward the end of that year, however, the Sunni Arabs who were leading the insurgency in Anbar decided to join hands with U.S. forces to jointly fight the extremist al-Qaida group, and violence levels plunged.
Now Anbar is one of the quietest parts of the country, with Iraqi security forces in the lead.
The transfer to Iraqi provincial control of Anbar has been delayed since late June. Initially the delay in holding the handover ceremony was attributed by U.S. officials to a sandstorm, but it became clear that is also was due to worries that the shift could set off unrest due to competing Sunni camps in Anbar.