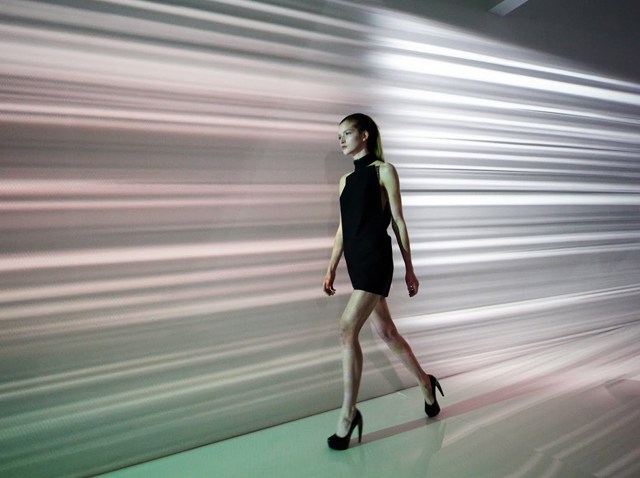 Paris fashion week
has been making a lot of global headlines this season, but not good ones:
John Galliano
has been fired from Dior for making anti-Semitic remarks, rumors ran rampant that
Stefano Pilati
may or may not be getting the heave-ho from
Yves Saint Laurent
, and Christophe Decarnin didn't show up to take his bow at Balmain amid rumors that he is in a mental institution.
Besides the scandals there are lingering questions about who is going to take over Dior, and the inevitable round of designer musical chairs that is sure to follow. But where are the headlines about the clothes? Last season when designers showed their spring 2011 collections, we were talking about flatforms at Chanel, Grecian flesh toned gowns at Lanvin and peasant feather skirts at Alexander McQueen.
News that Galliano had been fired hit the fashion world just as rising star Brussels-born Anthony Vaccarello's show was ending on the first day of Paris fashion week.
The New York Times' Guy Trebay nodded to Vaccarello in an article
saying the designer had "a fine presentation whose fate it was to be forgotten instantly, overtaken by the latest bit of unfortunate news." It was a bittersweet mention—perhaps in seasons past, Vaccarello would have warranted a profile. Other rising star designers in the Paris scene that have often created buzz including Alexis Mabille and Hakaan barely registered a blip.
Even those designers that are getting attention—Haider Ackermann, Riccardo Tisci, Hannah MacGibbon and Stefano Pilati—are being talked about either because they are in the running for the Dior post or are dodging rumors that they are being fired. The LA Times Booth Moore wrote, "Ackermann is among the top contenders to head Dior, post-Galliano. So, for this collection the pressure was on. And Ackermann answered it with the most stunning show so far this Paris Fashion Week." Cathy Horyn countered in The New York Times:
Haider Ackermann put such a surfeit of emotion into his clothes that he forgot to offer women something to wear. To add to the heavy drama of twisted jackets, extra-wide belts and long hobbling skirts was the speculation that Mr. Ackermann might somehow figure in Dior's plans for replacing John Galliano.
This kind of attention is likely to have a polarizing effect. For designers like Ackermann, whose star is on the rise, all press is likely good press for his fledgling label (especially considering it's mostly glowing). For labels like Chloé and Yves Saint Laurent, where there is uncertainty, the effect could be more damaging. And for all of the Paris labels that aren't even in the conversation this season, let's defer to Oscar Wilde who said, "It's better to be talked about than not talked about at all." In other words, don't expect lengthy wait lists this season—it's not likely enough fashion broke through the chatter long enough to create a lasting impression.