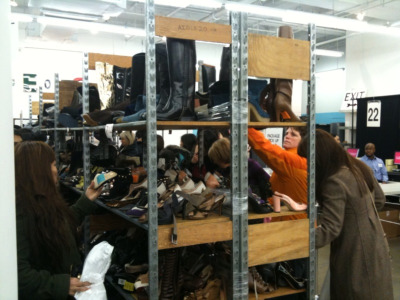 BARNEYS WAREHOUSE
If you're not worn out from Fashion Week head to the biannual holy grail of designer sample sales -- a whole range of good are available, and, according to Racked, Barneys rolled out another round of discounts this week, offering 25 percent off denim and 25 percent off red star designer clothing. You can check out our coverage from the sale or head down to 225 W. 17th St. to see for yourself.
JODI ARNOLD
You have until Sunday to snap up items from Jodi Arnold's winter and holiday collections for up to 80 percent off. The two lines offered a great mix of neutral tones and bright colors, complete with bold patterns that should transition well into the Spring. Expect to find embellished dressed for $125, tops for $65, bottoms for $50 and leather jackets for $150. Wednesday to Saturday at Savvy at 2 Great Jones St.; 10AM-8PM.
ODIN / PAS DE DEUX
This men's shop and ladies' boutique are coming together to offer something for everyone. Expect to find 55 to 90 percent off apparel, footwear, accessories and more from previous collections. Head down to 199 Lafayette St.; Call for details 212-966-0026.
CIRCA NOW
As a final farewell to this East Village boutique, head to their closing sale and enjoy their vintage stock one last time. A selection of spring dresses, denim, shoes, boots bags and more will be available for $20 to $50. The shop is closed Friday, but will re-open for a final sale Saturday and Sunday at 238 E. 6th St.; 12-8PM.
The Saks consolidation sale is pressing on, and saly the discount is still only 25 percent off the price tag. According to the Fashion Prospectress, there are fewer designer name tags, but there is still a lot of St. John, and plenty of YSL, Ralph Lauren, Proenza Schouler, Valentino, YSL, Oscar de la Renta, Carolina Hererra, and more. Head down to Saks to check it out for yourself.
J. CREW
Didn't find what you were looking for at the Running of the Brides? J. Crew is offering bridal gowns and bridesmaid dresses for up to 60 percent off this weekend. Friday to Sunday at The Flatotel at 135 W. 52nd St.; Friday and Saturday, 11AM-7PM; Sunday, 12-6PM.
BIRD
If you're like us and have been coveting most of this little gembox's merch for most of the season, you're in luck - discounts are being upped to 75% through February. Isabel Marant and Vena Cava have got some rad pieces left for accessibly low prices. 220 Smith Street, Cobble Hill; 718-797-3774; 316 Fifth Avenue, Park Slope; 718-768-4940; and 203 Grand Street; Williamsburg; 718-388-1655; and online at shopbird.com.