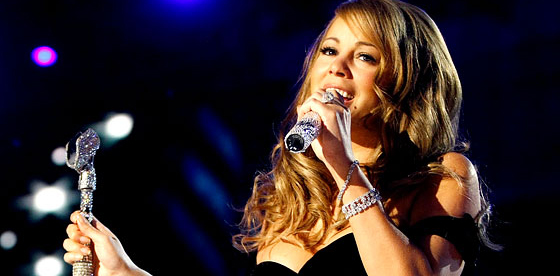 It's late, the weather's nice (for the moment), and we've got big news so we're just gonna lay it on you: Mariah Carey has snatched the No. 1 Song of the Summer spot from the Black Eyed Peas, whose "Boom Boom Pow" is officially overplayed out — and faces an enemy from within: "I Gotta Feeling," by the Black Eyed Peas. Elsewhere, Cobra Starship and the Gossip burst the bounds of their respective genres to offer straight-up summer hotness, and Sean Kingston has us so ready to dance in front of the AC in our unmentionables.
Whether or not it's about Eminem, as some maintain (and the lyrics don't say Marshall Mathers to us — more like Stan), Mariah Carey's "Obsessed" contains one of the all-time great put-downs: "You're a mom-and-pop, I'm a corporation." (And you know Wal-Mart haters are turned on.) If nothing else, Mariah's an institution: Second only to the Beatles in No. 1 singles, she's the closest thing this summer has to a dominant (pun intended) diva — Keri Hilson's gonna touch her? Fergie? And, like the best summer tracks, this song's a shape-shifter: it's a slow jam, but with Gucci Mane on the remix; it's sexy, but a dis track; it's dark, but you'll sing along. Spin us right round, Mariah, and feel free to do so all summer.
1. Mariah Carey, "Obsessed": Congratulations to Mariah on the Power Rankings' first-ever No. 1 debut. On a side note, another notch in Mariah's impressive SOTS CV are her gritty choices in remix partners: following in the footsteps of O.D.B. and Jadakiss come Gucci Mane and the official "Obsessed" remix.
2. Tie: Black Eyed Peas, "Boom Boom Pow" and "I Gotta Feeling": Their new single — a calculatingly feel-good song about partying that sounds like Kelly Clarkson — has given them a 1-2 showing on the Hot 100. But will two dominant singles split the B.E.P vote?
3. Drake, "Best I Ever Had": The Kanye-directed video for the song is coming shortly, meaning forays into the preteen after-school set might be imminent, as well.
4. Jeremih, "Birthday Sex": Every day is another opportunity for someone to use "Birthday Sex" as the soundtrack to their … okay, you get it.
5. Keri Hilson feat. Kanye West and Ne-Yo, "Knock You Down": Hilson proves we weren't wrong to bring her back from SoS obscurity — after returning last week to the Rankings, she peaks at No. 3 on the Hot 100.
6. Sean Kingston, "Fire Burning": Yes, it's incredibly annoying. But so was "Beautiful Girls," and, as we recall, things didn't turn out so bad for that one.
7. The Gossip, "Heavy Cross": Particularly strong season for the indie contenders — following in the footsteps of Japandroids, Animal Collective, and Grizzly Bear is the Gossip, splashing down this week with their Rick Rubin–produced album Music for Men. Here's the absolutely knockout first single.
8. Jamie Foxx feat. T-Pain, "Blame It": Continuing its ignominious slide, "Blame It" fell out of the Hot 100 top ten this week. Looking more and more like the summer's first burnout.
9. Pitbull, "I Know You Want Me (Calle Ocho)": As the New York Times points out, Pitbull is right in the thick of radio hip-hop's dance-music leanings.
10. Cobra Starship, "Good Girls Gone Bad": The first of what will surely be a series of semi-novelty songs (this one features Leighton Meester of Gossip Girl fame) from the band behind "Snakes on a Plane (Bring It)."
Previously on Vulture...

Copyright VULTR - NY Mag