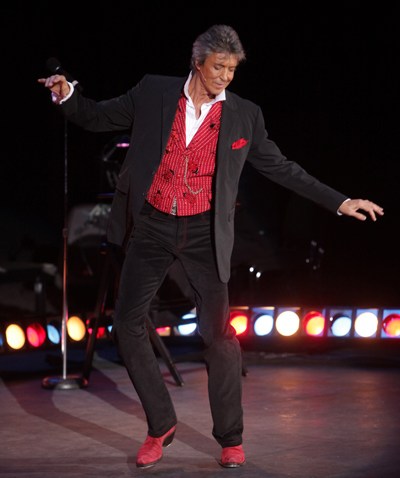 Hey, want to feel like a slacker? Line up your achievements with those of Tommy Tune, possibly the ultimate showbiz multi-tasker.
For starters, he famously got his very first job from his first audition on his first day in New York City, after leaving his native Texas to pursue the dream of dancing on Broadway. And he more or less hasn't stopped since. Tune just celebrated 50 years in show business (last year, so make that 51), as a quintuple threat (actor-dancer-choreographer-director-singer), for which he's won nine Tony Awards, eight Drama Desk Awards, and two Obies. Name a musical, on stage or on film, and he's probably worked on it, and maybe even won an award for it: The Will Rogers Follies. Hello Dolly. Grand Hotel. Grease. The Boyfriend. Stepping Out. Nine. The Best Little Whorehouse in Texas.
Also, just to add insult to injury, he's taller than you--but then again, at nearly 6-foot-7, he's taller than most.

What do you do after that, other than put up your very nimble feet and spend time spit-polishing your trophies? You get all meta and create an autobiography in song and dance.
On Sunday, November 14, the Brooklyn Center for the Performing Arts at Brooklyn College launches its Headliners Series with Tune's Steps in Time: A Broadway Biography in Song and Dance. Here, the Broadway legend—who famously looks half his age pretty much all the time (he's 71) and has a stature more suited to basketball—packs all 51 years of his staggeringly impressive career into an hour and a half of song-and-dance highlights, backed by the Manhattan Rhythm Kings, who sing close-harmony renditions of Great American Songbook classics and have been Tune's collaborators since he heard them singing outside a subway station 25 years ago.

The show—which he's performed at engagements across the U.S. for a little over a year—is very personal, even including a number from his 1957 high school talent show.
Though back then, he wasn't nearly as tall.
Steps in Time: A Broadway Biography in Song and Dance. Brooklyn Center for the Performing Arts (CUNY Brooklyn College), 2900 Campus Road, Flatbush, Brooklyn; 718-951-4600. Sunday, November 14, 3PM; $32-$42 advance, $35-$45 at door. Tickets via brooklyncenteronline.org.
What I'm listening to: Sweet Darlin' – She & Him