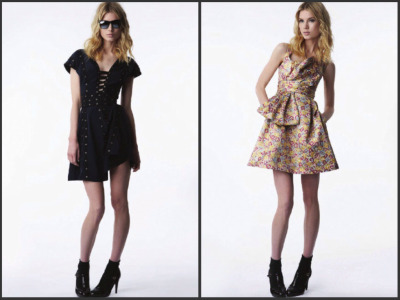 Ladies, start your engines: Zac Posen's collection for Target will kick off with the requisite New York pop-up -- this time, a 24-hour shopping event with live music, colorful dresses, and swimwear. Confer with friends, make a strategy and get ready for the flash fete.
Perhaps as a result of Target's last collaboration with Liberty of London selling out its pop-up store an entire day early, Zac Posen's upcoming capsule collection will go up for grabs for just one day in advance of its official drop nationwide. Beginning at 11PM on the 15th, the pop-up at 481 Eighth Avenue (at 34th) will start going. Frankly, we think shopping after midnight sounds like a pretty excellent idea, especially with the Like scheduled to provide a live soundtrack for the initial portion of the evening.
The wares are some of the most anticipated since Rodarte's holiday turn for the brand, since Posen's collection includes some of his pitch-perfect cocktail dressing (he told WWD that he even revived a version of the brand's "trumpet dress"), as well as swimwear and a full-length gown -- the first ever available in a Target collaboration -- for $69.99.
Not surprisingly, the incredible response to the launch has Posen thinking about a more permanent lower-price addition to his main line (he already designs a limited version -- Z-Spoke, exclusively for Saks Fifth Avenue). "This absolutely could lead to a more permanent [collection]," he told WWD. "I'm into building a fully vertical lifestyle brand like the Giorgio Armani and Emporio Armani model."
Zac Posen for Target 24-Hour Pop-Up
11PM Thursday - 11PM Friday at 481 Eighth Avenue