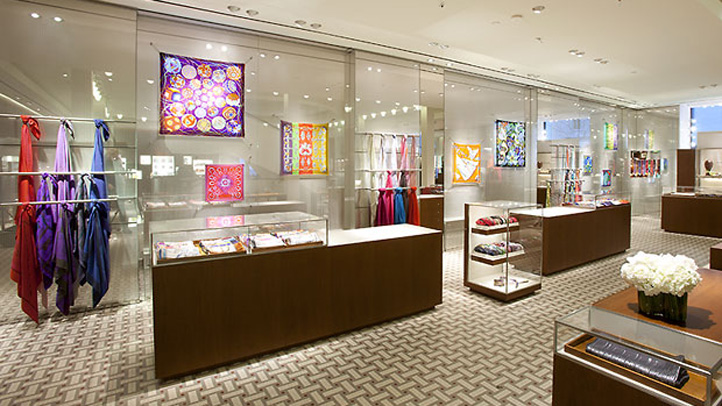 Hermès just unloaded its 45 percent stake in Jean Paul Gaultier as it continues its effort to position itself as the "true" luxury maker in a sea of wannabes. With the global luxury market expected to grow by 8 percent this year, the company's exclusivity strategy seems to be working. Operating profit at Hermès rose 44 percent to 668.2 million euros in full-year operating profit, beating analysts' expectations. Sales rose 25 percent to 2.4 billion euros.
But that doesn't mean the hostile takeover aims of LVMH and its CEO Bernard Arnault are ever out of sight. At the March 4th earnings presentation in Paris,
Hermès CEO Patrick Thomas famously said of LVMH
, "If you want to seduce a beautiful woman, you don't start by raping her from behind." Thomas has also said in the past that Hermès family members are "revolted" by LVMH's stake building. Currently, LVMH controls just over 20 percent of Hermès.
But as the luxury goods maker revealed its remodeled New York Madison Avenue flagship yesterday (designed by Rena Dumas' firm RDAI, the space boasts a Custom Silk Corner where customers can personalize a Hermès silk scarf), the tone was all about emphasizing the heritage and craftsmanship that the brand provides in comparison to other luxury goods companies -- perhaps a subtle dig at LVMH.
Robert Chavez CEO of Hermès US said, "Our theme this year is all about craftsmanship. The silk screening, for instance, is very labor intensive, but it is something that we have remained true to."
Chavez said, "What sets us apart is the level of quality, the quality really starts at the materials themselves, we only use the finest materials that are available, and then taking those fine materials and using leather craftsman, watch craftsman. It really takes years and years of training to make our products come alive." Most Hermès laborers are based in either Switzerland or France depending on their specialty, according to Chavez.
As for Hermès' long-term game plan, Chavez said, "We remain focused on our strategy which is limited distribution, an unerring commitment to quality and craftsmanship and continuing to provide the best possible service for every customer that comes into our boutiques." That, and clearly keeping one eye on the "wolf in cashmere" LVMH CEO, Arnault.