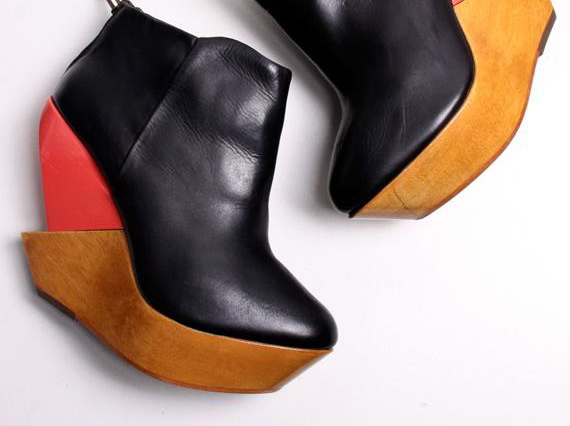 London-based shoe designer, Julia Lundsten, has made a reputation for herself and her brand, Finsk, as leaders of footwear innovation and progressive, artchitectural design. Through Fashion Week collaborations with the likes of Ports 1961 and Basso & Brooke, Finsk isn't just a footwear label to watch, but one to aggressively seek out -- at least, before their collections completely sell through.
Last year, a black pony hair version of Finsk's fabulous sculptural wedges sold out in NYC before you could say "hit." This season, we fully intend to avoid making the same mistake twice, and a sky-high and salmon-pink edition of the same shoe is now available at Oak. Each pair is handcrafted by artisans in Brazil from locally-sourced materials -- a hallmark of Finsk's mostly-eco designs. As an extra green bonus, all the leather pieces used in production are by-products from other industries.
Pick up a pair while supplies last at Oak. We advise you to hustle -- these babies never last long.