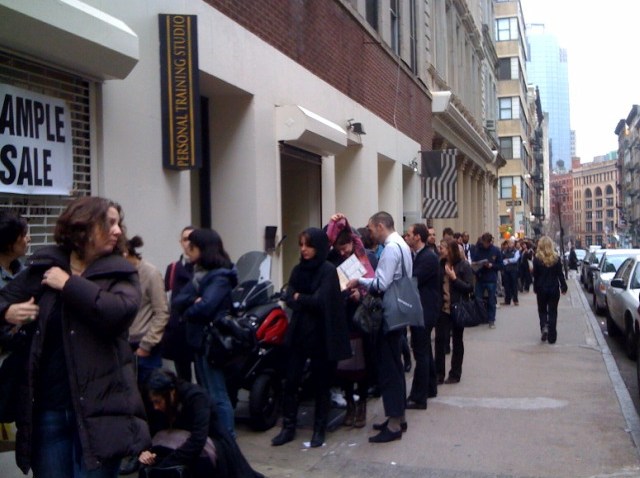 A new study shows that Americans are still trading down in the face of economic turmoil, a pattern we've definitely noticed in NYC as off-price options abound.
WWD reported on the recent findings of Boston Consulting Group's study, "A New World Order of Consumption", which revealed persistent habits of trading down among American shoppers, even as the economy begins to rebound. Other countries, however, are seeing fewer bargain shoppers among their ranks.
The retail scene in NYC reflects the shift towards deal discovery among those who may have spent less discriminately before the recession hit. Off-price offshoots continue to crop up around the city, with Bloomingdales announcing new outlets, Nordstrom Rack opening in Union Square, Barneys Co-Op expanding to Brooklyn and, just last week, Forever 21 opening a behemoth in Times Square.
The Target-revolutionized model of high-fashion-to-mass-market collaborations took hold, especially in New York, the home of the world's most well-dressed paupers. Beyond the big-box chain, designers teamed up with all sorts of retailers to send their price points plunging to the hands of the city's fashion-obsessed, from the dead-broke artists to temporarily cash-strapped mogulettes.
Then, of course, there are sample sales, the longstanding rite of passage for a New Yorker. The event have become so frequent we'd venture to believe there was at least one sale to hit every day of the year (if you haven't noticed, then you haven't been reading your Thread!). It's like the sartorial equivalent of the pedicure - what was once a novelty has become no less than required maintenance.
We think the city will evolve its spending ways for good, because New Yorkers know better than anyone the spectacular design innovation and overall creativity that steps up from hardship - that's just how we do it.